Welcome to the Hobart Handler 175 review! The Handler 175i is a powerful MIG welder designed for both industrial and hobbyist use. It's a great choice for anyone looking for an easy-to-use welding machine that produces quality results. In this guide, we'll take you through all the features of the Handler 175i, answer commonly asked questions, and give you a thorough review of the welding machine. So, let's get started!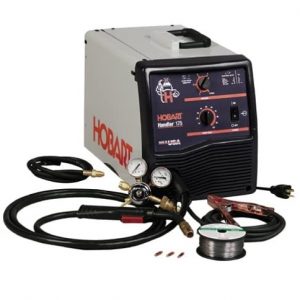 Welcome to the Hobart Handler 175! This top-of-the-line welder is perfect for small or large projects, giving you the freedom to weld a range of materials and thicknesses quickly and easily.
You can choose from four output voltage settings with wire feed tracking, allowing you to make adjustments on-the-fly. Plus, it features a built-in contactor that makes the welding wire electrically "cold" when not in use – an excellent safety feature!Need to set gas flow rates? The Handler 175 has you covered there, too. There's a separate "purge" setting, so you won't waste wire while getting your gas rates just right. Last but not least, it welds up to 1/4 inch thick in a single pass and has self-resetting thermal overload and motor protection for lasting performance. The Hobart Handler 175 – get one today and join the pros!
Hobart Handler 175 User Manual
Having problem? Download Hobart Handler 175 instructions.
---
Pros & Cons of Hobart Handler 175
---
Buyer's Guide
Why Hobart?
When it comes to selecting a welding machine, the Hobart Handler 175i is one of the top choices for hobbyists and professionals alike. The lightweight and portable design make it perfect for any home garage or professional shop, while its duty cycle ensures that you can weld continuously without fear of overheating your equipment.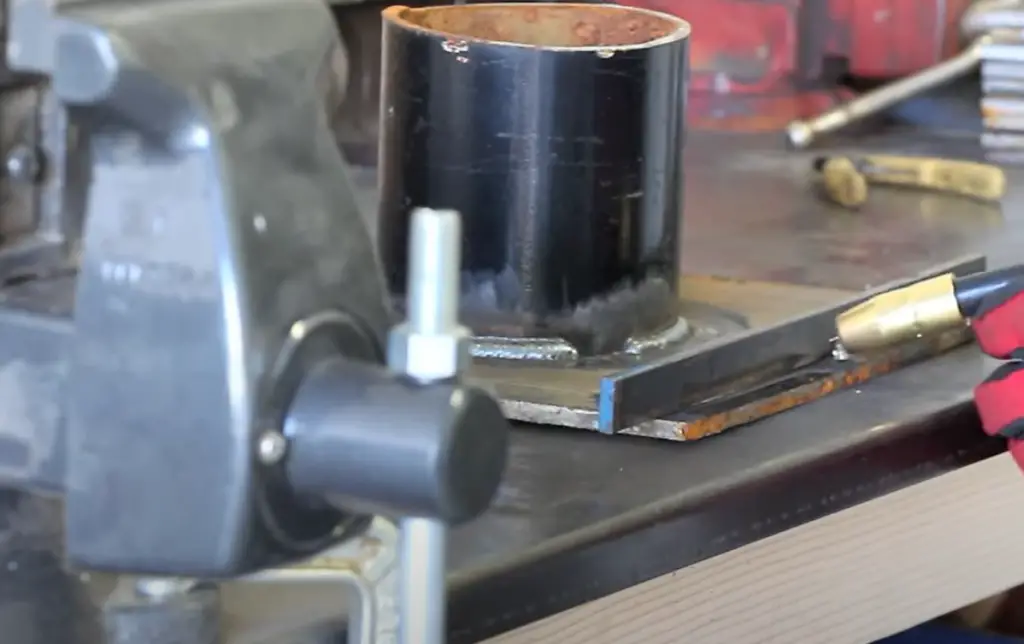 With an impressive range of features like the adjustable welding voltage, wire feed speed and thermal overload protection, this machine is sure to meet your needs.[2]
For Whom Hobart Handler 175 Designed For?
The Hobart Handler 175i is an ideal welding machine for those who take on projects that require precision and control. It has been purposely designed to be user-friendly, so even novice welders can quickly pick up the basics of operation. The device operates as a MIG welder, providing exceptional arc performance and portability. Also, it is capable enough to handle a wide range of material thicknesses and can be used with both gas and self-shielded flux cored wires. With the Hobart Handler 175i, you'll have the freedom to work on many different types of projects with no need for extra tools or accessories. The device is also designed to make welding easier, with a wide range of adjustable parameters that give you greater control over the outcome. Subsequently, regardless of the type of welding task at hand, you can be confident in achieving excellent results with this user-friendly and dependable machine.[2]
Hobart Handler 175 specs at a glance
The Hobart Handler 175i is a powerful, multi-process welding machine that can weld both MIG and flux core. It features four voltage settings and a 30 to 175 amp output range, giving you the flexibility to tackle projects of almost any size. The unit also comes with an 8′ cable for MIG gun and gas hose, as well as a 10′ work cable with clamp. It's built to last, with a durable steel construction and protective finish that prevents rust.[2]
Design and Portability
The Hobart Handler 175i is designed to be both durable and lightweight, making it easy to transport around the shop or to your next job. It has a handle on top and wheels on the bottom for extra portability, so you can take it wherever you need it.
The power cord is 25 feet long, giving you plenty of room to move around.
Performance
The Hobart Handler 175i delivers exceptional performance for a small MIG welder. Its wire feed speed is adjustable up to 700 IPM, and it can weld steel between 24 gauge and ¼ inch thick with ease. The 115V/20 amp power requirement makes it easy to plug into standard household outlets, while the included 8-inch spool gun increases the range of metals it can weld. The Handler 175i is also equipped with an infinite amperage control, allowing you to set the maximum current that can be applied to your projects. It also offers a polarity switch and dual frequency which allows users to adjust the welding current depending on their project requirements. Lastly, its 7-position voltage control switch allows for fine-tuning of the output. With all these features combined, you get superior arc performance and minimal spatter on your welds. Overall, this welder is great for DIYers and professionals alike who are looking to weld mild steel, stainless steel and aluminum.
MIG welder unboxing
Unboxing the Hobart Handler 175i MIG welder is a straightforward process that takes only a few minutes to complete. The box includes the welder, an instruction manual, a 10ft spool of .030″ SuperGlaze aluminum alloy welding wire and an 8-inch spool adapter for larger spools.
Full-size MIG platform
The Hobart Handler 175i is a full-size MIG platform, perfect for heavy-duty welding jobs. It's rated at a maximum of 175 amps and is capable of handling thick steel up to 1/2 inch.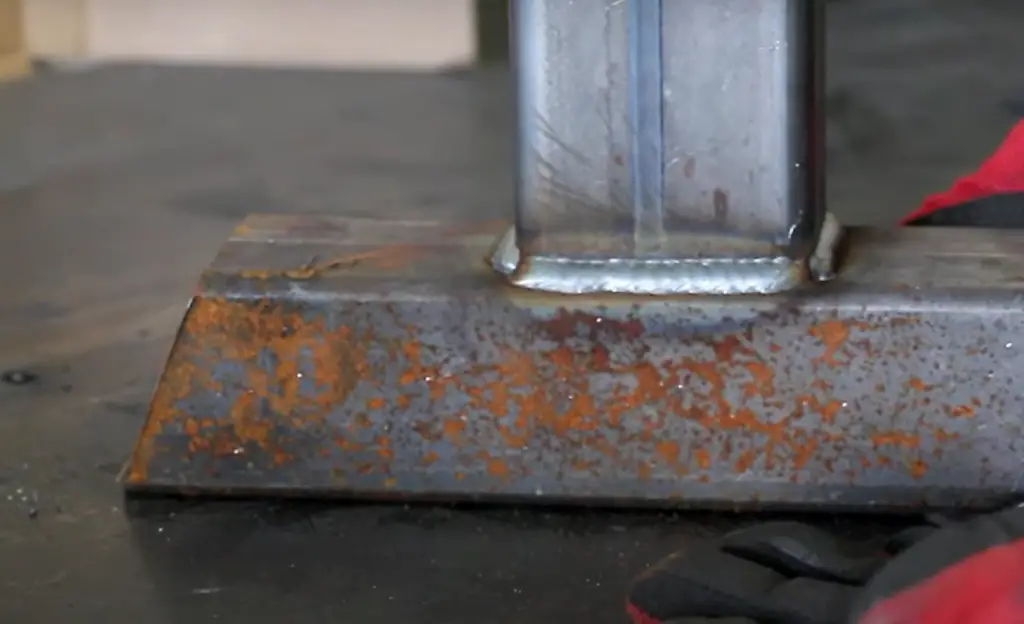 The machine also has an adjustable drive system that allows you to adjust the wire speed on the fly. This means you can quickly and easily make adjustments to your welding criteria as needed. The machine also features a built-in gas solenoid valve, which eliminates the need for an external regulator.
Making spatter
One of the primary advantages of using a Hobart Handler 175i is that it allows you to make spatter-free welds. This feature is especially helpful when welding aluminum and other thin materials where spatter can be a problem. To achieve this, the Hobart Handler 175i features a multi-process capability which allows you to switch quickly between multiple welding modes. This makes it easy to adjust the settings for each material's specific requirements, thereby eliminating spatter and achieving a better weld.
Reversible drive rolls
The Hobart Handler 175i comes with reversible drive rolls for quick, easy material changes. This feature allows operators to quickly switch between different types of materials without having to take apart the rollers and manually switch them over. The drive rolls are also durable and able to withstand frequent use without becoming damaged or worn down. This ensures a smooth operation and consistent performance.
The drive rolls can be reversed to handle different types of materials, such as aluminum or mild steel. By having the ability to adjust the rollers for different material types, operators are able to maximize their welding efficiency and achieve better results when working with various metal alloys.
Hinged door
The Hobart Handler 175i sports a hinged door, which is convenient and easy to use. This makes it easier to access the controls and switch out welding rods when needed. The hinged door also provides additional protection from sparks flying in all directions as you weld. It's essential for safety when working with dangerous materials! Not only does the hinged door offer protection, but it can also help you save energy as it seals in heat and reduces the amount of time needed to reach the optimum welding temperature.[2]
Power output
The Hobart Handler 175i delivers an impressive output of 140 Amps and 30-175 DC welding. With up to 7 voltage settings, you have the flexibility to choose the best setting for your project. It has a high duty cycle rating of 60%, so it can be used for extended periods without overheating. The unit also features infinite wire speed control, giving you greater accuracy and control over your welds.[1]
Weight and Transportation
The Hobart Handler 175i is a portable, lightweight machine that makes it easy to take it with you when welding jobs require travel. With the power of an industrial-strength welder and a weight of just 70 lbs., you can easily transport your welding machine from place to place.
The machine also includes a built-in 115VAC/230VAC power supply and an output range of 25A to 175A for versatile welding capabilities.
[1]
Wire Speed and Voltage Settings
The Hobart Handler 175i is equipped with infinite wire speed settings. This allows users to find the perfect speed and voltage settings for their welding projects easily. The control panel includes a digital readout that displays the current wire speed and voltage settings, as well as a knob for fine-tuning the values.
The recommended starting settings for the Hobart Handler 175i are 24 volts and 270 inches per minute.
System setup
The Handler 175i is a highly portable welder and doesn't require any complex setup. All you need to do is make sure your work space has adequate ventilation, such as open windows or a fan, to ensure safety when welding. Additionally, it's important to check the power source for proper voltage and amperage before plugging in the Handler 175i.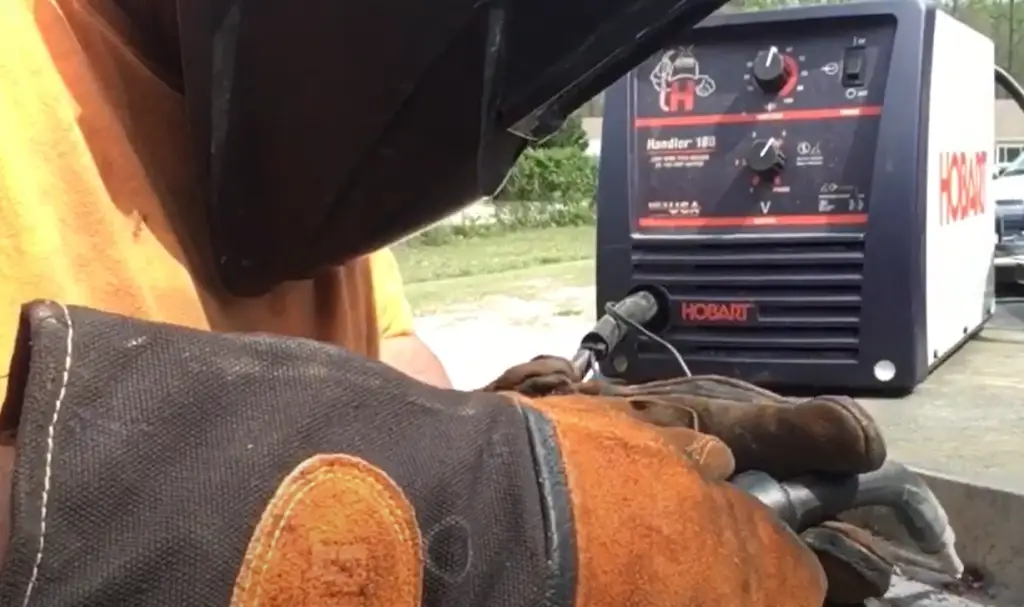 Once you're ready, plugging in and setting up the welder is a simple task. Just connect the electrode holder and ground clamp to their designated outlets and switch on the power. You can easily adjust parameters such as voltage, wire speed and amperage using the large control knob located on top of the unit.[1]
Usability
The Hobart Handler 175i is both easy to use and versatile. The user friendly control panel has all the necessary settings for welding thin gauge steel and aluminum, as well as thick plate material. The built-in output pre-set selector switch allows you to quickly set the welder's welding current and voltage without having to manually adjust each setting. The adjustable wire feed drive also provides a precise and consistent weld bead size.
Price
The Hobart Handler 175i is quite reasonably priced for the features and quality it offers. It's a great value compared to other welders in its class, and many users are very satisfied with their purchase. The current price is around $900, depending on where you make your purchase.
Warranty Options
The warranty options for the Hobart Handler 175i are as follows:
1 Year Limited Warranty – This warranty covers all manufacturing defects and any parts or labor needed to repair them.
3 Year Extended Warranty – This optional extended warranty provides additional coverage for three years from the date of purchase. It covers most parts and labor, but certain exclusions may apply.
Lifetime Warranty – This warranty covers all defects in materials and workmanship for the lifetime of the product. It covers most parts and labor, but certain exclusions may apply.
Safety features
The Hobart Handler 175i is designed with safety as a top priority. It features several safety mechanisms, including an automatic shut-off system that will stop the arc welding process if the metal joint is not completed or if the machine receives too much heat. The unit also has a dual-stage thermal overload switch to protect against overheating and a voltage sensing pilot arc that automatically adjusts the arc length for a consistent, accurate weld. These safety features make the Hobart Handler 175i an ideal choice for any welding project.[1]
Who Should Consider Getting a Hobart Handler 175 Welder?
The Hobart Handler 175 is a great choice for any experienced welder who needs a reliable and cost-effective machine.
It's capable of welding up to 1/4 inch thick steel in a single pass and is capable of welding steel, stainless steel, and aluminum.
With its simple setup and operation, experienced welders can easily get the job done quickly and efficiently.
[1]
Where to buy the Hobart Handler 175?
You're in luck – the Hobart Handler 175 is widely available! It can be purchased from multiple retailers, both online and offline. Online options include Amazon, eBay, and Jet. For those who prefer to shop in-store, you can find the Hobart Handler 175 at hardware stores like Home Depot and Lowe's as well as some welding supply stores. You can also buy it directly from the Hobart website, where you can purchase the welder and accessories such as welding gloves and a welding helmet.[2]
What Happened to the Hobart Handler 175?
The Hobart Handler 175, a wire-feed welder that was popular among DIYers and professionals alike, has been discontinued by the manufacturer. But don't worry; there are still plenty of quality welders on the market to choose from. We'll talk about some of these options in this article.[2]
What should you know before buying the Hobart Handler 175?.
Before buying the Hobart Handler 175, it's important to know the features and specs of the welder. The Hobart Handler 175 is a MIG (Metal Inert Gas) welding machine that has a duty cycle of 20% at 175 amps.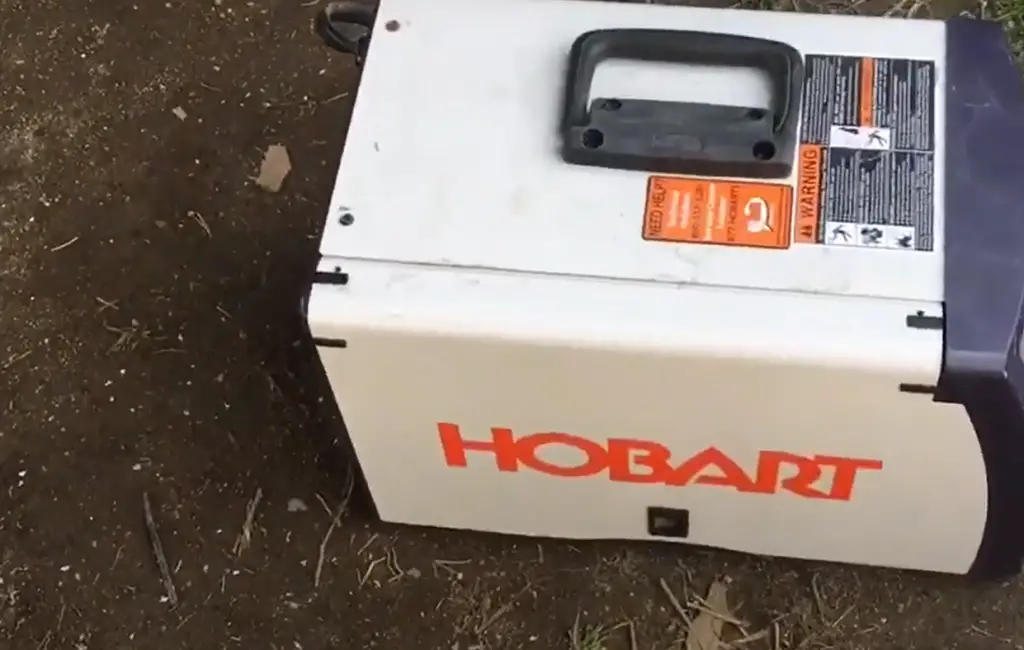 It has an input power of 230 volts with both single phase and three phase capabilities. It uses .030 to .035 inch diameter wire and has a maximum amount of welding amperage 145 amps. The weight of the machine is 82 pounds and it comes with a 10 foot power cord, a gas regulator/flowmeter, contact tips for .024"-.035" wires, gun liner for 0.023.
---
FAQ
Are Hobart welders any good?
Yes, Hobart welders are very good! They have a long history of making reliable and durable welding equipment, and the Hobart Handler 175i is no exception. The machine is capable of welding mild steel, stainless steel and aluminum with ease. It's also lightweight enough to be transported easily and has an adjustable output control for precise welding.
Which welder is better, Miller or Hobart?
This is a difficult question to answer, as both brands make excellent welders with their own strengths and weaknesses. Generally speaking, Hobart welders are known for being user-friendly, reliable and durable. Miller welders tend to have more features than Hobart welders and provide a wider range of welding options. Ultimately, the choice between Miller and Hobart welders comes down to the individual's needs and budget.
Is Hobart better than Lincoln welder?
Again, this is a difficult question to answer as both brands make high-quality welders. Generally speaking, Hobart welders have a reputation for being user-friendly and reliable while Lincoln welders are known for their superior performance and versatility. Ultimately, the choice between Hobart and Lincoln welder depends on the individual's needs and budget.
Who are Hobart welders made by?
Hobart welders are manufactured by Hobart Brothers Company, a division of ITW Welding. The company has been producing welding equipment since 1917 and is committed to providing the highest quality products in the industry.
Is Hobart made in China?
No, Hobart welders are not made in China. The equipment is manufactured in the United States at ITW Welding's facility located in Troy, Ohio.
Video Guide: Hobart Handler 140 Review & Welding
Conclusion
If you're looking for a reliable, efficient and easy-to-use welding machine that can handle heavy duty projects, then the Hobart Handler 175i is definitely worth considering. This MIG welder offers excellent features at an affordable price, making it a great choice for both novice and experienced welders. With its high quality components, durable construction and modern design, the Hobart Handler 175i is sure to provide you with years of welding success.
No matter what type of project you're tackling, the Hobart Handler 175i can handle it. From light repair work to heavy-duty projects, this welding machine will help you get the job done quickly and efficiently. Its reliable performance and user-friendly features make it a great choice for any welder looking to get the most out of their welding experience.
---
References:
https://weldingpros.net/hobart-ironman-230-review/
https://fixitmanblog.com/hobart-ironman-230-reviews/