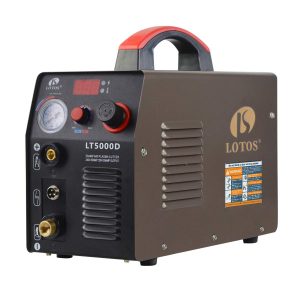 As one of the largest manufacturers of plasma cutting, tig/stick, arc (MMA) welding equipment in the world, Lotos Technology is proud to offer an extensive selection of industrial plasma cutting machine, LT5000D. Lotos LT5000D is designed and constructed to withstand extensive use in rugged industrial and construction environments. It is perfect for any home project too.
Lotos LT5000D User Manual
Having problem? Download Lotos LT5000D instructions.


---
Pros & Cons of Lotos LT5000D
Pros
The LT5000D is an excellent choice for home DIY jobs and light duty small business projects
Compare with oxyhydrogen cutting, plasma cutting is much more safefy, quick, low cost and easy to use
Max Severance Thickness: 3/4″
Dual Voltage
Cons
It has an overheating fault switch that's triggered every time you touch the workpiece
---
Video Guide: LOTOS LT5000D Dual Voltage (110/220VAC) 50Amp Plasma Cutter Review
---