Frankford Arsenal Quick-N-EZ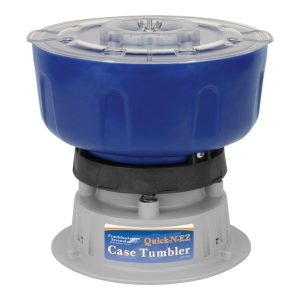 Bowl Design Increase Brass Agitation
Removes Fouling, Lube And Oxidation From Brass
Fits Up To 600 9mm And 350 .223 Cases Of Brass
Frankford Arsenal Platinum Series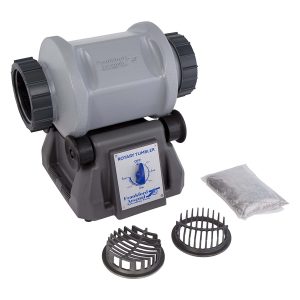 Dual-layer Drum With Noise Dampening Rubber Lining
Clean Without The Use Of Stainless Steel Media Pins
Clean Up To 1,000 Cases Of .223 Brass At A Time
Lyman Pro 1200 Tumbler (115-Volt)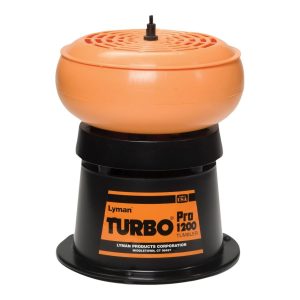 Cleans Up To 350 Cases Per Cycle
Built In Sifter Lid For Quick And Easy Media Separation
No Need For Separate Media Sifter
Lyman 7631550 Cyclone Rotary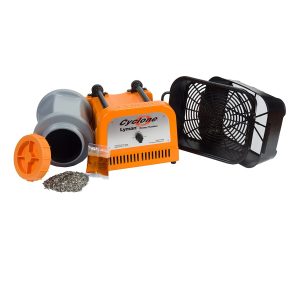 Built In Timer Can Run From 0 To 3 Hours
Holds Up To 1000 Pieces Of 223 Brass
Rubber Lining To Protect Brass And Reduce Noise
Hornady 050220 Rotary Brass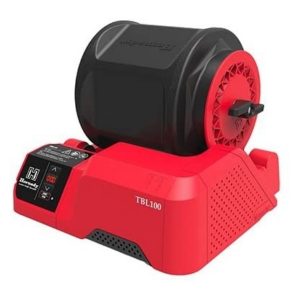 Cleans And Polish Brass Cartridge Cases
Six-Liter Drum Holds 5 Pounds Of Brass Cases
Fan Cooled Motor. Quick Seal Compression Lid. Digital Timer
---
Choose the Best Brass Tumbler
Customer's Choice: the Best Rated Brass Tumblers
115 users answered this survey. Please help us improve this review!

49.57% of users selected Frankford Arsenal Quick-N-EZ, 26.09% selected Frankford Arsenal Platinum Series, 7.83% selected Lyman Pro 1200 Tumbler (115-Volt), 11.3% selected Lyman 7631550 Cyclone Rotary and 5.22% selected Hornady 050220 Rotary Brass. Every month we analyze your answers and change our rating.
---
A lot of people enjoy hunting or just practice shooting with guns in the shooting gallery. These hobbies involve spending plenty of money on buying new ammunition. However, there is a way to save money. The case of a bullet is the most expensive part of a round. With a press kit, it is possible to reload them and use them again. In order to do that brass, cases have to be very clean.
So-called tumblers are one way of cleaning them. In the meantime, the term "tumbler" has become common among reloaders for the type of case polishing devices. They can be of different capacities and types. In order to be satisfied with a choice, here you can find valuable information on selecting the right device and reviews of several products you can be interested in.
Frankford Arsenal Quick-N-EZ –Best for Lowest Price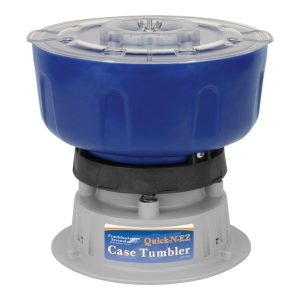 Cleaning brass cases and using them again is possible without spending a lot of money. Frankford Arsenal Quick N-EZ is a budget option for reloaders.
It provides fast and simple cleaning of brass sleeves from mud, fat, oxidation, and other types of pollution. It is a vibratory type of tumbler, which effectively perform without making a lot of noise.
The loading compartment of the device is calculated on 600 cartridges of 9 mm, 350 cartridges of the 223 caliber. Speaking about media cleaners it is compatible with corncobs and walnut shells. For more effective processing it is recommended to use special lubricating fillers for brass.
Design
The design is very convenient, which does not require a lot of space. You can simply start to use it after simple unpacking and assembling. On the top part, you have a transparent cover, which allows you to watch the tumbling process if you like. Moreover, it is made of reliable steel, which is ready to serve for many years.
Pros
Pros
A wonderful combination of value and quality;
It is a great choice for beginner reloaders;
Tumbler works quietly what allows users to turn it on for a night in the garage;
It perfectly suits for small monthly loads;
The tumbling sessions do not require a lot of time.
Cons
Cons
It is not compatible with the water cleaning option.
---
Frankford Arsenal Platinum Series – Best for Capacity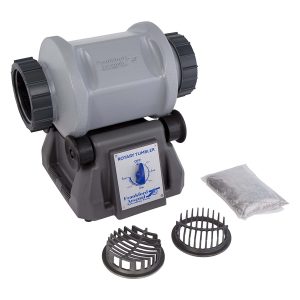 Rotary Frankford Arsenal Platinum Series Rotary Tumbler is the best way to clean your brass cases from soot and other contaminants. Cleaning is done both mechanically using small stainless steel needles and chemically using detergents.
Each method can be used separately, but only together they will give 100% cleaning and polishing of the cartridges.
After the washing procedure, you should carry out the procedure of washing and removing the remaining foams in the sleeves, and upon completion, they should be properly dried. The whole process takes up to two hours and as a result, you have more than 1000 sleeves whose appearance does not differ from those are on the shelves.
Design
The unit is a bit heavy, which provides it with good stability with full loads. It does not require a lot of space, even when it has so large capacity of cases. It does not make a lot of sound due to a two-layer drum with a sound-absorbing lining.
Pros
Pros
Built-in timer with automatic shut-off function;
Possibility to choose between mechanical and chemical washing;
The set has everything you need to work (Foam and chemical);
The toggle switch is equipped with a transparent cover for visibility of all process;
It is made of reliable materials, which can serve for many years.
Cons
Cons
It may overheat in long tumbling sessions.
---
Lyman Pro 1200 – Best Vibratory Tumbler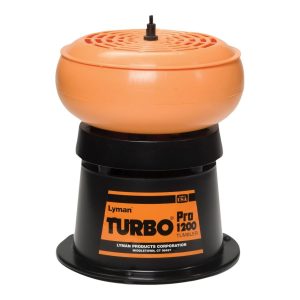 The famous arms company and Lyman brand, USA, is almost 220 years old. The extensive range of weapon-related products for the reloading enthusiast always includes Lyman's innovative premium products.
In the production of equipment for reloading, Lyman uses modern technologies, including vibration technologies, increasing the already highest quality and practicality.
The Turbo Tumbler 1200 Pro Sifter Case Cleaner and Polisher, based on vibration technology, has almost doubled cleaning speed compared to earlier models, provided excellent cleaning and polishing performance, and became one of the revolutionary and most popular reloaders.
Design
The unique design of the device allows the tumbler to constantly and actively move relative to the fully submerged cases. A high-speed, agitated motion cleans and polishes each sleeve. It is possible to inspect and assess the condition of the liners without stopping the cleaning operation. Today this model is the best-selling model in the world.
A vibrating plate on the base connects the polishing bowl firmly to an electric motor. An eccentric flywheel is located on its downwardly protruding motor axis, which sets the motor together with the vibrating plate and the bowl screwed on it in motion.
Pros
Pros
Reinforced suspension system to better activate the media for quick cleaning;
It is very quiet during tumbling sessions;
The device is equipped with a powerful, thermally protected motor that runs smoothly without overheating.
It is very simple to assemble and start using it.
Cons
Cons
It is mostly suitable for wet cleaning.
---
Lyman 7631550 – Best for Quiet Performance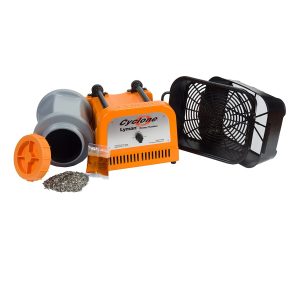 Rotary toggle switch Lyman Cyclone Rotary brass tumbler cleaner is a wonderful option if you do not want to worry your neighbors with a loud noise. For cleaning, brass cases are placed in the loading compartment, where they are pre-filled with small stainless steel needles.
Detergent, used as a special tool for brass and simple kitchenware. All of that helps to reach the most inaccessible places on the rounds.
Cleaning with stainless steel pins also performs nice polishing. As a result, brass cases look almost new. The main material used for this tumbler is thick plastic. The benefit of it is that you simply leave it to dry out without worries of appearing rust on it.
Design
The cleaning process with stainless steel pins and water is very effective, which allows users to save time. However, it sometimes difficult to separate pints from brass cases. Therefore, with Lyman cyclone tumbler you receive two sifters.
While pouring everything through them, cartridges stay on the first sifter and pins on the second one, while the water goes away.
Pros
Pros
Timer function with time switch, the interval from 1 minute to three hours;
The loading drum holds up to a thousand 223 caliber shell casings;
Rubber seals reduce noise levels and prevent damage to the sleeves;
Transparent wall cover to monitor the process;
Together with a tumbler, you receive a lot of steel pins and special detergent for brass.
Cons
Cons
Plastic is not a durable material.
---
Hornady 050220 – Best for Compact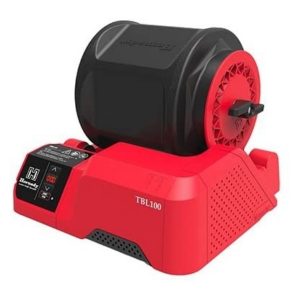 Another wonderful option for your consideration is Hornady 050220. This company has tremendous experience in providing products in this field. The tumbler is made of reliable plastic, which can serve you for many years.
As the tumbler is rotary, it allows you to perform wet cleaning. As a result, you receive shiny like new brass cases.
Design
Hornady does not require a lot of space. Its design is suitable to table, desks, workbenches, etc. The rubber bottom part provides the unit with stability and reduces the noise it produces. For better comfort, it has a digital timer. You can arrange tumbling sessions without wasting time.
Pros
Pros
Stainless steel pins come together with the unit;
It can run for a long time without breaks;
The cleaning process is fast;
It is easy to assemble and start using the device.
Cons
Cons
Proper drying is required after wet cleaning.
---
The Buyers Guide
On the market, there are a great number of various brass cleaners. To be satisfied with a decision it is necessary to understand the peculiarities of these devices. You should also take into consideration personal preferences. Here some important points, which it is better to pay attention to during the purchase. 
Capacity
Reloaders often deal with a large number of brass cases. Depending on the workload, it can be wise to select a tumbler with a large capacity. It allows cleaning a large number of shells simultaneously. If you plan to reload rounds by yourself, then taking a smaller device can be a better option as it allows you to save money on cleaning media.
The average capacity of devices starts around 600 cases. On the market, most tumblers have a capacity of 1000 cases, which is also not very much, but enough for most reloaders.
Speed
Brass cases have to be properly cleaned and it is better not to neglect with time. The cleaning speed greatly depends on different points, including whether the tumbler is rotary or vibratory. The second type is much faster. 
Another point is about media. Not very tumbler is compatible with all materials, while they also influence how fast cases can be cleaned. Each media is suitable for different cleaning methods and stages of case contamination.
Compatibility
If you see that a tumbler can hold 1000 of .223 cases you should not dream about using it to clean a lot of 45 cases per load. The compatibility of these devices plays an important role when you deal with various types of shells. With larger brass cases, the number of pieces you can load will decrease. While making a choice you should know what brass cases, you will deal with. 
Construction
Every tumbler consists of certain constituent parts, which have to be reliable. The whole construction can have some weak parts, where details are faster worn out. In most cases, manufacturers provide reliable tumbler. After purchase, it is better to whether all parts without damage. 
Durability
Among various tumblers models, you can find that some of them are made of plastic and steel. The first material is not very durable for long-term exploitation but it is cheaper. Steel tumblers will serve you for many years. Which one to choose greatly depends on how often you plan to use tumblers.
Media For Brass Cleaning
To clean brass cases you also need a specific media. Not every tumbler is compatible with all of them. Thus, it is important to know what kind of media you are plan to use before buying a cleaning device. 
Walnut Shell
If you do not want to spend a lot of money on media, then the walnut shell is what you need. It is a quite cheap material, which is very easy to find. It is somewhat similar to small animal beddings in cages. Walnut shell is good when you deal with rusty and old cases. This media can be rough and scratch new cartridges, instead of a simple cleaning.
If you would like to receive a shiny look of brass cases, you should consider a crushed walnut shell. It is much smaller, which makes it soften. As a result, it can even polish your cartridges. 
Corncob
An effective but a bit expensive way to clean cases is to use corncobs. They are softer and treat brass better. The main disadvantage is that you will have to deal with dust from it. Thus, it is better to select a closed tumbler. Corncobs also do not require water for brass cleaning. 
Stainless steel pins
Stainless steel pins are wonderful media, which you can use only in a rotary tumbler. Moreover, they require water and for the second time using, you also need to wash them with a cleaning liquid. After tumbling, it is very important to dry out the tumbler and cases. Among advantages, stainless steel pins clean cases very effectively and make them shine like new ones. 
Vibratory or Rotary Tumbler?
While trying to find a tumbler, you can find rotary and vibratory models. Each cleaning method has its peculiarities. 
Rotary
These models are very simple to use and quite often are not very expensive. They allow you to load cases and turn on devices, without paying much attention to them. Depending on the media, the rotary tumbler can work without making a lot of noise.
Among weak sides, they require more time and cleaning media. Those that use water, may have leakages with time. 
Vibratory
This is a type of polishing devices where cases tumble through vibrations in a bowl with media. This method is likely to be the most widespread cleaning variant for the empty brass parts. They are fast to deal with large amounts of cases. You can save money on spending fewer media. 
However, vibratory tumblers need more attention and they can be quite noisy. Speaking about price, it is higher than rotary devices. 
Useful Video: TESTED: Frankford Arsenal Rotary Tumbler Lite
---