Wrights Copper and Brass Cream Cleaner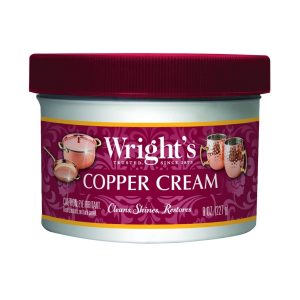 Leaves A Protective Coating
Keeping Long-Lasting Shine For Copper, Bronze & Brass
Helps Bring Your Copper Back To Its Original Beauty
Weiman Brass And Copper Polish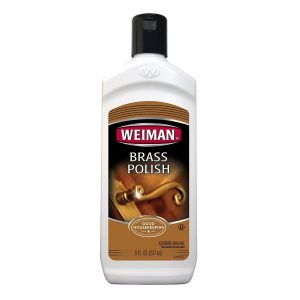 For Unlacquered Brass Objects
Cleans & Shines Brass, Copper, Chrome, Bronze & Pewter
Non-Scratch Formula. Rejuvenates Dull
Twinkle Brass & Copper Cleaning Kit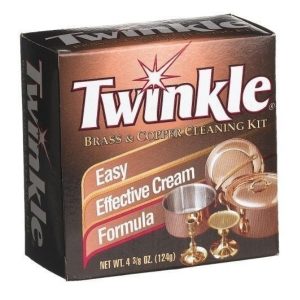 No Scrubbing, No Mess
Easily And Quickly Dissolves Tarnish And Cooked On Stains
Anti-Tarnish Ingredient Keeps Copper Brighter Longer
EZ Brite Penny Brite Copper and Brass Cleaner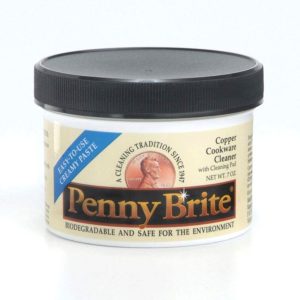 Returns Original Luster
Prepare Copper Surfaces For Etching And Enameling Fast
Biodegradable And Safe For The Environment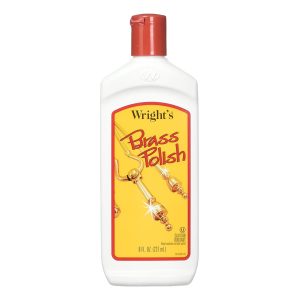 Without Scratching
For Fine, Unlacquered Brass Objects
Detergent Blend For Cleaning And Easy Rinsing
---
Choose the Best Brass Cleaner
Customer's Choice: the Best Rated Brass Cleaners
151 users answered this survey. Please help us improve this review!

56.95% of users selected Wright's Copper And Brass Cream Cleaner, 16.56% selected Weiman Brass And Copper Polish And Cleaner, 13.91% selected Twinkle Brass & Copper Cleaning Kit, 4.64% selected EZ Brite Penny Brite Copper and Brass Cleaner and 7.95% selected J A Wright Brass Polish Cleaner. Every month we analyze your answers and change our rating.
---
You no longer have to suffer rubbing your brass, dying to clean it until it gleams. You don't have to try to make your own natural cleaners at home. There are a lot of better affordable options existing in the market! Here is our list of top 5 best brass cleaners that maintain luster and prevent discoloration. Brass is strong, corrosion resistant alloy. Thanks to its bright gold colors, it is one of the most common decorative and home furnishing materials in the whole world. However brass also tends to tarnish and dull over time just like any other metal.
Fortunately, by using brass cleaners it is quite simple to make your items look new and shiny.
Magic itself, isn't it? Just a few minutes – and your brassware gets a little sheen again and the details are highlighted with no trace of messy stains and tarnish.
Brass is a metal alloy containing zinc and up to 80% of copper. It gives the alloy a golden hue. However, brass, unlike copper, is not magnetized. Brass is one of the most common and important copper alloys in the industry. It fully retains the unique properties of copper, but at the same time it is more affordable and in some cases, has a higher strength.
The alloy has been known for a very long time and found its first application in jewelry. Unlike copper, brass can be processed at a much lower temperature, and in many cases, even cold forging is allowed.
Its color is very close to gold, and its corrosion resistance is also impressive. Depending on the quantitative content of the main components, brass can be used for the manufacture of products for various purposes today.
Brass popularity is explained by the following characteristics:
Aesthetics. Brass is similar in color to gold, so it is often used by designers for creative interiors.
Affordable price. Unlike other non-ferrous metals, brass is relatively inexpensive. It is mainly due to the ease of production.
Strength. Brass is resistant to corrosion under normal conditions and can work well in aggressive environments without losing its properties.
It is suitable for a wide range of products – foil, cookware, door handles, rails and much more can be made from this alloy.
Copper or brass items will certainly add a special zest to your home. But all these metals can change color over time. Constant contact with air makes brass surfaces gradually darken, and water or humidity leads to the formation of a bluish-green film on brass surfaces. So how to make such items look new for a long time?
In fact, brass cleaning is not so difficult. There are many methods to return shine to your brass and make it look like new. In this article, we will review the 5 best brass cleansers as well as tell you about alternative ways to renovate brass objects.
P.S. Remember that brass cleaners are only meant to be used on unlacquered, solid brass items.
Wright's Copper and Brass Cream Cleaner – 8 Ounce – Gently Cleans and Removes Tarnish Without Scratching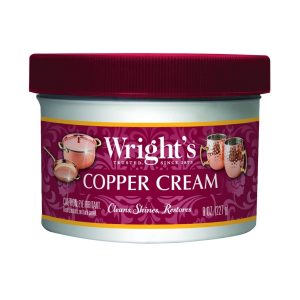 Wright's promises this 8 ounce fuchsia jar will bring your copper and brass items brilliant, enduring, mirror-like gleam.
As well as erase the discoloration made by high heat or food spills. It is known for its soft, non-scratch, anti-tarnish formula. Thanks to it, the product gives your item a protective coating to prevent and delay tarnish from re-tuning. It helps with all types of brass and copper surfaces.
This cleaner is designed for sinks and cookware. But it will provide long-lasting shine to other things made from copper, bronze, or brass. It contains the finest components and allows you to renovate your brass items with no scratches and other damages. Moreover, the cream has an anti-tarnish formula, protecting your items and keeping them clean for a longer period. The cleaner works very fast, and you will avoid tiring buffing with it.
Pros
Pros
Fast-acting;

No-scratch formula;

Fine for everyday use;

Long-lasting effect;

No harsh chemicals.

No harsh chemical odor.
Not harsh on the skin.
Effortless applying as well as effortless rinsing off.
It takes insignificant effort and just a few minutes (if not seconds) of your time.
Can be used on both inside and outside of pans, mugs, pots etc.
It is gentle enough for daily use and not abrasive on the copper.
It would come in handy with stainless steel and bronze surfaces as well.
Can also be used to polish the brass for restoring the original shine of the alloy.
Cons
Cons
Eye-irritant;

Not recommended for lacquered surfaces.

For removing some kinds of stains, it may take a few applications.
Cleaning the darkenings from some pieces with decorative hammering work may need additional effort and thoroughness. The polish doesn't do it by itself.
The packaging could be more thoughtful, it doesn't survive some tough transportation difficulties.
It does clean, but doesn't prevent the copper color from changing. You'll probably need a different product for this purpose.
As with any other cleaner, please ensure to rinse the product off completely and dry your copper pieces thoroughly after cleanup, in order to extend the shelf life of your items.
This cleaner is very easy to apply. You will need to rinse the brass item, apply some cream, wipe it off, and dry an item. This polish is not abrasive as it does not contain harsh chemicals. But remember to test the cleaner on a small piece of the brass item before applying it to the whole surface to ensure it will not damage the coating. To remove old residues or carbon marks, you may need a few applications.
---
Twinkle Brass & Copper Cleaning Kit, Easy Effective Cream Formula, 4.38-Ounce Box (Pack of 2)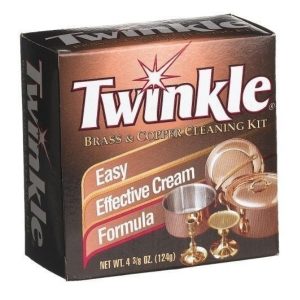 This cleaning kit impresses with its efficiency! Its anti-tarnish ingredient keeps copper brighter longer. The applicator added to the kit is not disposable.
The cleaner is supposed to easily remove burnt-stains. Pay attention: to use Twinkle Copper and Brass Cleaner, one needs to rinse the item with hot water twice (before and after applying a product). Otherwise, you won't get a desired result.
With this cleaner, the maintenance of brass cookware is easy and fast. It perfectly process the surface without leaving scratches, removes dirt, blackening, patina, and forms a beautiful shiny protective layer. This highly effective product is suitable for cleaning and polishing kitchen utensils. It is also ideal for cleaning and polishing door handles, curtain rods, chandeliers, fixtures, and other things.
Pros
Pros
Non-scratch formula;

Protective anti-tarnish effect;

Durable shine;

Easy to use;

Safe for all brass products;

Has no unpleasant odor.
Is effective and economical.
No scrubbing, no mess, and no waste. It literally doesn't leave any remnants.
Unlike Wright's Copper and Brass Cream Cleaner, it deals with carvings easily.
Cons
Cons
Cannot be used on lacquered items.

The sponge may lose its original appearance with only one usage.
Twinkle Brass & Copper Cleaning Kit ranks second. It is 100% earned, as we can judge from its effectiveness in comparison with other products.
The non-abrasive formula of this cleaner makes it absolutely safe for brass items. It is easy to apply and remove with warm water. If you need to clean a rough surface, you may need to use a soft brush for a better effect. It removes tarnish almost immediately and returns mirror shine to your brass items. For old stains, leave the solution on for a minute and then wipe or rinse it off. Note, that this cleaner is not ammonia-free, and it is advisable to wear a protective mask if you are sensitive to fumes.
---
J A Wright Brass Polish Cleaner, 8 Ounce, 993188 – 6 per case.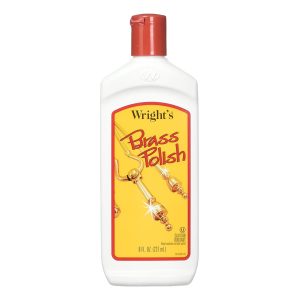 Wright Brass Polish Cleaner is a real hard-to-find Amazon treasure. It is a water-based gentle liquid cleaner for tarnish removal without scratching, which would be useful for fine brass items, such as door knockers, rails and fixtures; candlesticks etc.
Wright Brass Polish Cleaner eliminates tiresome buffing. The process is very simple itself, in the end one gets a gorgeous, brassy gloss. The cleaner's formula includes a detergent blend. That means one can simply wash out the object with no sticky mess left.
This cream works great on all types of copper and brass, except for the surfaces with a special coating like lacquer. Besides regular kitchen items, it is suitable for antique things like coins. It quickly removes tarnish and other traces of contamination. The box contains two packages of cleaner and a reusable application sponge.
Pros
Pros
Removes the dirt very quickly;

Anti-tarnish protection;

Easy to apply;

Immediate result;

No petroleum distillates in the formula.
No residue after cleaning.
Surprisingly easy to use.
No scratching.
No need to polish too often.
Cons
Cons
No composition is shown on the package, so wear protective gloves.

Is rare and not sold at retail, 6 per case only.
Designed specifically for brass, no other metals or alloys included.
With such a set of advantages and disadvantages Wright Brass Polish Cleaner gets the highest Amazon rating (which is 4.8) among these TOP5 products.
This stuff is very easy to use. And you can use it on all brass or copper items in your home – handles, pots, candlesticks, rails. You just need to rinse the brass object in the hot water and apply the paste with a sponge and then thoroughly wipe it off. There is no need to rub or scrub anything. You only need to take time to remove the cleaner totally from the brass surface to avoid spotting. After it, you use a microfiber cloth to buff the surface to a golden shine.
---
EZ Brite Penny Brite Copper and Brass Cleaner / Polish 7oz by EZ Brite Brands, White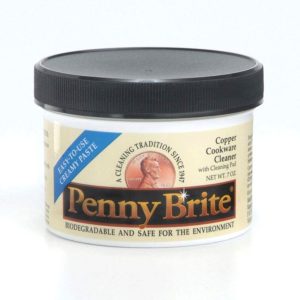 The next product on our list is Penny Brite Copper and Brass Cleaner. It prepares copper surfaces for etching and enameling fast and is good at bringing copper jewelry to its original brilliance. Use the sponge that comes with it to apply the product.
This environment-friendly product is an ideal cleaning means for brass surfaces. It works well on all brass items, including jewelry and pots. The procedure is very simple, you need to apply the paste for several seconds and wash it away. You will literally need minutes to return the shine to your copper goods. The package includes an applicator for even more convenience.
Pros
Pros
Biodegradable;

Works instantly;

Can be used as preparation before enameling;

Easy to use;

Non-toxic product.

Has minimal odor.
It leaves no residue.
Removes minimal scratches.
Works with minimal scrubbing on the copper items. No strenuous rubbing.
Saves your time and usually works within minutes or even seconds.
Besides brass and copper, it is also formulated to, ceramics, chrome and stainless steel.
It works equally good either with delicate items or for strong brass cleanup.
You don't need gloves with it, as the product does not contain sulfuric acid, phosphates, ammonia, chlorine or carcinogenic benzene additives.
Unlike all other products in our TOP5 list, it is biodegradable and safe for the environment. + It has a recycled container.
Cons
Cons
Requires thorough rinse.

The sponge is quite brittle.
The main and very serious disadvantage is its not reliable packing. It easily gets damaged while transported.
Penny Brite Copper and Brass Cleaner truly deserves a 5 / 5. However, the frequent problem of the product leaking or drying out during the transportation had really spoilt its reputation.
This detergent is a mixture of soap and mild abrasive. So be careful not to rub too heavily the items you intend to clean. Many customers leave positive feedback on the wonderful cleaning result of brass jewelry. If you need to renovate small items, you can prepare a solution of warm water and the paste and place the items inside this solution instead of rubbing them. Alternatively, you can use a soft toothbrush for a better result.
---
Weiman Brass and Copper Polish and Cleaner – 8 Ounce – Gently Clean and Remove Tarnish Without Scratching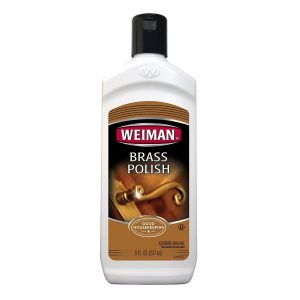 Weiman Brass and Copper Polish and Cleaner is aimed at removing tarnish from door knockers, rails and fixtures, as well as jewelry and fine brass objects.
Forget about tedious buffing. This cleaner helps dull, tarnished brass to reveal a truly beautiful, pure, mirror-like gloss.
Be careful in usage as the liquid is watery and can pour out instantly.
This water-based liquid cleanser was designed exclusively for brass. It easily and efficiently removes the tarnish from brass surfaces without leaving scratches. The package includes 6 bottles of detergent. And it is the right choice for those customers who have a lot of brass cookware and other things. You will save much time and energy, returning shine to your brass with just a wipe.
Pros
Pros
Does not contain petroleum distillates;

Odor-free;

Easy to apply;

Good volume at an attractive price.

It rinses off easily.
It is quite gentle and non-abrasive
Can be used also for chrome, pewter and bronze surfaces.
Cleans delicate items and antiques very well.
Cons
Cons
Cannot be used for lacquered surfaces.

The chemical odor is pretty strong.
Though it is advertised to be ammonia-free, this fact is strongly questioned by attentive consumers.
Sometimes it leaves behind an ugly white layer (particularly in hard to reach parts of the item, such as corners, for instance).
Unlike some other products, the cleaner is not recommended for stainless steel.
Unlike Wright's Copper and Brass Cream Cleaner, it doesn't leave the coating to prevent the brass from tarnishing quickly.
So, this cleaner has its flaws, but is still quite beloved by Amazon customers.
This cleanser will be a finding for those who have massive brass surfaces to process. It is good for cleaning rails, candlesticks, doorknobs, and other things. The cleaner is easily applied and rinsed. You will forget about the tedious scrubbing with this solution. It has a safe composition and is eco-friendly.
---
The Buyer's Guide
Brass is known as a durable material but certain environmental conditions can affect it a lot:
Extremely high temperatures can make the brass tarnish;
if a brass item is placed in the premises with high humidity, then over time, be ready to see corroded areas and green patina;
If you touch these products, they can react with dark stains. And brass jewelry can leave green marks on the skin.
If you are going to clean a brass product at home, it is advisable to check how to organize it correctly. Lacquered items cannot be processed with detergents with aggressive substances. Normally, it is enough to wipe an item with a cloth or a cotton swab, which is moistened with ordinary soapy water. But for old stains and contamination, various cleaning compounds can be used.
Alternative ways to clean brass
If you do not have the possibility to buy a special brass cleaner, do not get upset. You will surely find many things at home that will help you to do the job.
Lemon and baking soda
Prepare a paste by mixing one lemon juice and some baking soda. The obtained substance is applied to a brass object. For better results, rub it in gently with a clean cloth. It will help get rid of contamination without damages. Clean the item by wiping it with a wet cloth or putting it under the water tap. The main task is to dry the object well. Otherwise, you will find water stains on its surface.
Ketchup
Brass items can be also processed with ketchup. It is enough to leave some amount of the product on the surface and then clean it with water. Remember to wipe the item with a cotton cloth afterward to avoid water stains.
Milk
This product contains an acid that helps to remove the dirt. Take equal parts of water and milk and dive the object you want to clean into this mixture. You can even heat up the solution and boil it for several minutes. In the end, rinse well the object to avoid the milk smell.
Yogurt
You can renovate brass surfaces with yogurt. Spread over the dirty areas, wait a few minutes until it dries out, and then rinse and wipe the surfaces with a cloth until the remaining water disappears.
Vinegar and salt
You will need several liters, half a glass of vinegar, and one spoon of plain sault. Mix everything together and heat up until it boils. You will have to boil a brass object in this solution for several hours without breaks, constantly adding water. This method will kill all stains. To give the item a fresh look, it can be polished after rinsing.
Soap solution
This option is mainly used for soaking dirty items. If the brass product has oxidized only a little, then, such a procedure will be sufficient to return an attractive appearance to the object. You need to dissolve laundry soap in a container with warm water and foam it. Then, put brass objects in the container for twenty minutes. You may also use a soft brush to clean dirty areas. It is recommended to process the items with a brush under running water.
Toothpaste
Brass products can be effectively cleaned with toothpaste. To remove dirt, the item is first immersed in a soapy solution and washed. It removes and softens the contamination. Use a very small portion of the toothpaste to cover the dirty areas. Use a cloth to remove after some time. Be careful using a toothbrush not to damage the item. This tool is justified for hard-to-reach places only.
Sandpaper
Fine sandpaper is also efficient for this task. But it must be used with extra care to avoid damage. This method can be combined with other ways to access narrow and deep areas.
How to clean objects with a lacquered finishing?
The above options were fine for cleaning plain brass from oxide and other household contaminants. But how to remove an old lacquer layer from the brass surface on your own and how to restore it back. Follow these instructions for this job:
Arrange the place for this job. It is advisable to cover the working space with a protective cloth;
Old coating can be easily removed with acetone-containing liquids, which are used to process the surface. The procedure should be performed with care as polish remover is flammable;
After you cope with the coating removal, the surface is thoroughly cleaned using specialized creams.
The prepared product is covered with a new protective layer. You will need brushes and cotton pads for it. Make sure you distribute it evenly and do not leave uncovered areas. At the same time, avoid touching dry surfaces with fingers. The product must be dried well after this procedure.
Brass care tips
To keep the brass surface shiny for a long time, you need to follow several simple rules:
Brass items can only be wiped with a cloth. If there is a protective layer on the item, then the fabric should be lint-free.
Water and chemicals are not the best options for care. If you need to wash a brass piece, do not let it dry naturally. It is better to wipe it immediately with a clean cloth.
To add shine and polish to the item, use napkins for silver. You can get them at any jewelry store.
If the product is frequently used in everyday life, keep it clean. Take time to wipe off fingerprints, dust, and moisture regularly from brass.
Avoid touching brass with greasy or dirty hands.
Item Form
There are either creamy or liquid cleaners. What to choose depends solely on your priorities, objects you need to clean, and circumstances. Liquid cleaners are more economical ones, but not always very comfortable to use (the watery liquid can accidently pour out or just annoyingly pour down the door while cleaning door handles, for instance). On the other hand, in case you need to clean some big objects (like beds etc.), creamy cleaners can be wasted way sooner. Additionally, the liquid cleaners deal with hard-to-reach areas without difficulty. Which is why you will not have to waste your time and rub the object all day long.
Surface Recommendation
Most cleaners don't specialize in some specific objects only, as a rule they are suitable for different pieces. If this point is crucial to you, pay attention to other characteristics, such as gentleness / abrasiveness. There are cleaners which are more applicable for cleaning fine jewelry or objects with deep carvings. And some of them are better for massive items with stains which are extremely difficult to get rid of. Fortunately, we have told you everything about it in the review, so no worries!
Target material
Some cleaners can be used not only for brass and copper, but for pewter bronze, stainless-steel, chrome or ceramics as well. At the same time, some products need to be used only for brass, for example. That's why one should read the description carefully before purchasing.
Packing
The color and pattern etc. are a matter of taste. The only thing we'd recommend to bear in mind here is the transportation circumstances that can destroy the packing. Some really worthy cleaners get extremely negative feedback and lose customers just because of their unreliable packaging. So that the liquid leaks out, or the sponge looks torn down and so on. Lucky you, we have solved this issue for you, read and enjoy!
FAQ (Frequently Asked Questions)
Can I use it on brass instruments?
It depends on whether the brass surface has any lacquer coating or not.
Can copper cleaner clean copper jewelry?
Of course, as long as the copper is not coated with a protective finish.
Will it scratch a copper bracelet I want to clean?
No, it won't.
If used on Moscow Mule Mugs, safe to use on inside or outside only?
Yes, it is safe, if the cleaner is recommended to be used with cookware. Just don't forget to wash it off thoroughly with your favorite dish soap. This product is not safe to consume with food.
Someone mentioned they used copper cleaners for silver also. Is it safe?
Since none of the 5 cleaners we've mentioned earlier are recommended for silver objects, we would not advise to experiment with this. Especially if the item has a sentimental value for you.
Will it work on bronze?
Please read the description attentively. Besides brass and copper, there are cleaners that may deal with some surfaces made of: chrome, bronze, pewter, stainless-steel or ceramics. While others don't.
Does this clean a bronze tablet on graves?
In case of gravestones there is a difficulty connected with their location. If the gravestones have been corroding (and will keep corroding) for many years in the weather, it may be challenging to clean and maintain the effect. 
How can I know how many jars I'll need?
It depends on the condition of your object and the cleaner you choose. Approximately, we would say that 8 ounces of the product is enough to clean a medium-sized sink in a normal state about 7 times.
How often should I use it on my cookware (pots and pans)?
The recommendations would vary from once a week max (if you use your pots and pans very often and want them to be as glossy as possible) and every 3-4 months min (if you use them rarely and just need to maintain their normal appearance).
Talking about interior decorative objects that are not in active usage at all, cleaning them once or twice a year would be enough to keep a warm glow.
Does it work on removing hard water stains in copper sinks?
Yes, it does.
I have a copper table top with smoke damage from a house fire. Will copper cleaner remove the smoke damaged areas?
The manufacturers of these products have not tested this product against smoke damage. So try testing in a small area first to see if it gives you the result you are looking for. However, Twinkle Brass & Copper Cleaning Kit is claimed to remove burnt-stains.
I want to remove tarnish from my door handles but not to polish it; the original finish is matte. Will this work?
The manufacturers do not recommend using this product for this type of application if the original finish is matte. If possible, try reaching out the manufacturer of the door handles for a cleaning suggestion.
Will this clean a door key that has deteriorated from getting wet?
Yes, if the piece has tarnished.
Will this leave a wax coating to prevent the brass to tarnish quickly?
Some of the cleaners would, some wouldn't. For instance, Wright's Copper and Brass Cream Cleaner's anti-tarnish formula leaves a protective coating to prevent and delay tarnish from re-tuning. While Weiman Brass and Copper Polish and Cleaner doesn't.
Will it remove scratches in a stainless steel stovetop?
Some cleaners may help with light scratches maybe, but not the deep ones. It polishes the surface, but does not repair it.
Do I need gloves while using brass cleaners?
For some cleaners it is obligatory, while some of them are tender enough for being used without gloves. Our personal opinion is that gloves never hurt. In order not to mistake or misread the instructions, we suggest just putting gloves on a regular basis.
Useful Video: Which brass cleaner works the best Wright's Or Brasso
Conclusion
Brass is a beautiful and very durable material. In case the alloy is clean and polished, it gains visual warmth and depth. However, brass does need to be polished to maintain that glow. With the proper care, brass will sparkle and can remain bright for hundreds of years. There is not much that you need to keep it in a good state: just a suitable brass polish and non-abrasive sponge.
And what we find especially awesome – it's totally up to you how your brass will look like. Some people want a more authentic, well maintained but 'aged' look for their items. If so, they should just use a more gentle polish not very often and apply pressure only to the raised surfaces. 
Also, you have an option to let your object darken over time. If you never polish the brass, it will dull right down. You may notice some signs of a greenish tinge as well, that's pretty reasonable. It depends on the level of copper your brass contains. Luckily, as solid brass will not rust, you should just use a decent amount of brass polish and own elbow-grease to recover the gleam after so many years. If this doesn't help, try a very fine wire wool with polish then. Please bear in mind this has to be performed with cautiousness. Don't forget you need to avoid scratching the surface. 
We have told you about the most popular options and methods for cleaning brass items. Now, we can conclude that the most appropriate is the use of professional cleaning products, made taking into account all the nuances of such surfaces. If the alloy needs to be cleaned, and you have only folk remedies at hand, the best result should be expected from acidic environments. But these must be used with extreme care, observing all the rules and not too often. And it is better to avoid products containing abrasives to avoid scratches. In difficult cases, when it is not possible to carry out a full cleaning with the offered means without the risk of damaging the product, it is recommended to seek help from specialists.
That's your choice! Good luck!
---