3M Adhesive Sealant Fast Cure 4200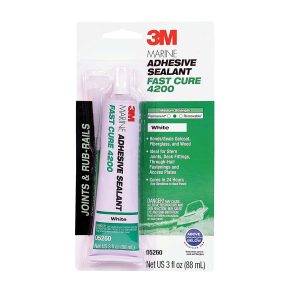 Cure Time – 24 Hours
Ideal For Joints, Rub-Rails, Access Plates
Seals Above & Below Waterline
Loctite Fast Cure Adhesive Sealant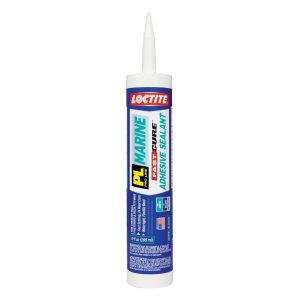 Watertight, Flexible Bond
Ideal For Through-Hull Fastening And Deck Fittings
Cure Time – 24 Hours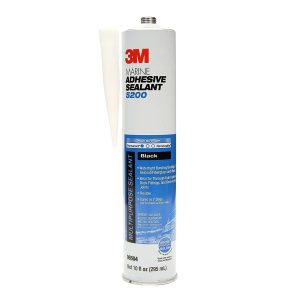 Handling Strength In 48 Hours
Retaining Strong Bonds During Vibration, Swelling, Shrinking
Cures Completely In 5-7 Days
Red Devil 0785 StormGuard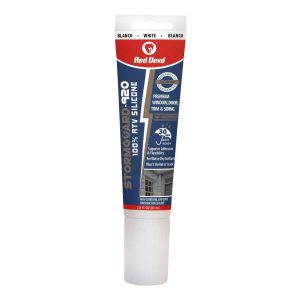 30 Minute Rain Ready
For Exterior Sealing Of Windows, Doors, Skylights
For Wet Or Dry Surfaces
TotalBoat Aluminum Boat Leak Sealer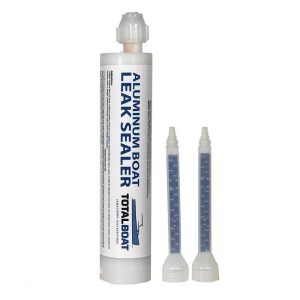 Can Be Sanded And Painted
Simple Repairs Of Leaking Boat Rivets And Seams
Above Or Below The Waterline
---
Choose the Best Marine Sealant for Aluminum Boat
Customer's Choice: the Best Rated Marine Sealant for Aluminum Boats
330 users answered this survey. Please help us improve this review!

39.7% of users selected 3M Adhesive Sealant Fast Cure 4200, 10.3% selected Loctite Fast Cure Adhesive Sealant, 17.58% selected 3M Adhesive Sealant 5200, 0.91% selected Red Devil 0785 StormGuard and 31.52% selected TotalBoat Aluminum Boat Leak Sealer. Every month we analyze your answers and change our rating.
---
It is no secret that vessels are subjected to enormous loads during operation and can react with various deformations. Exposure to fresh and saltwater and ultraviolet rays has a considerable impact on the service life of boats. Therefore, marine sealants should be necessarily used in vessels' construction and repair. Boat sealants are used to protect various areas on small boats and larger ships. They are applied for sealing window openings, deck, and hull seams. Sealants have also proved to be efficient for riveted and bolted joints of the vessel.
Since the scope of work of the sealant on the boat is rather large, the requirements for its quality are also high. Sealants for seawater must create elastic vibration-resistant sealed seams, which in turn have elasticity in order not to undergo various types of shrinkage and temperature deformations. Moreover, such sealants must have high adhesion to almost any material, must be resistant to sea and freshwater, ultraviolet radiation, and be durable in operation.
In this article, we will review the 5 best marine sealants and tell you about the main properties of the boat sealants you can find on the market.
3M Marine Boat Sealant – a great solution for underwater patches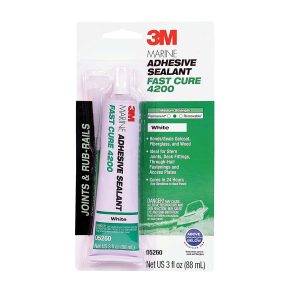 This adhesive sealant can be applied directly on the surface as it does not need to be mixed with other components. It cures the boat within 24 hours, and then it is ready to be launched on the water.
The sealant forms flexible bonds that do not get damaged during vibrations and movements. Strong polyurethane polymer provides long service. You can easily remove this semi-permanent sealant without boat damages once you need to replace it.
Pros
Pros
Easy to apply directly from the tube;
Long-lasting;
Works perfectly below and above the waterline;
24-hour cure;
Removable;
Cons
Cons
It will not work as a pure adhesive.
This multipurpose sealant will work fine on plastic, metal, and other materials. It is convenient to use as you can apply it directly from the tube. If you want it to be more fluid, keep the container under warm water before use. The remains of the sealant can be cleaned with acetone. Strong polymer formula makes the sealant effective for joints, crew or bolt holes, and other hardware attachments. It resists extreme weather conditions and saltwater and is very durable. You will also be able to remove it once you need it.
---
Fast Cure Marine Sealant – a good remedy for small holes in metal and rubber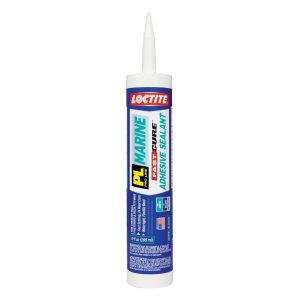 This sealer is recommended for curing aluminum boats, thanks to its waterproof property. It provides a perfect bond of plastic or rubber to aluminum surfaces.
The sealant comes in a convenient cartridge, making it easier to apply it without a caulking gun.
Pros
Pros
Water-resistant;
Paintable;
24-hour cure;
Provides flexible bond;
Cons
Cons
Not heat resistant;
A bit difficult to dispense.
The sealant will help you cure many items in your household. You can use it to make emergency patches on a number of items made from plastic, vinyl, fiberglass. It is perfect for patching little holes on your aluminum boat and small repair of pools. Some users found it difficult to get it dispensed, so you may need a putty knife to help. The product comes in bright white color and can be painted after 24 hours since application. But note that it is advisable not to leave it unused in the tube for a long time as it will dry out.
---
3M Boat Sealant – a great cure for aluminum boat leaks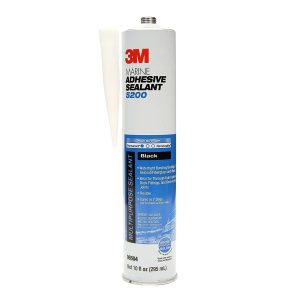 This flexible sealant will help you in many emergency situations when you need fast and effective repair. It works well on fiberglass, wood, plastic, aluminum. The sealant provides a super-strong bond and long repair effect.
It is especially appropriate for aluminum boats as it builds an impassable barrier to water in the processed places. Alternatively, you can use it on many other items.
Pros
Pros
Permanent bonding;
Water-resistant;
Perfect adhesion;
Simple to apply;
Durable formula;
Cons
Cons
Very difficult to remove.
This sealant is the best solution to repair leaking seams in your boat. It is better to use it in warm weather. In this case, it works like a liquid rubber and penetrates everywhere like paint. To achieve the best results, leave the processed item for 5-7 days to cure. The sealant becomes very hard but flexible enough to resist vibration, shrinking, and shock. The processed areas withstand bad weather conditions and saltwater with no issues. You can use it anywhere on an aluminum boat, including shaped seams and underwater areas.
---
Red Devil Silicone Sealant – super-fast drying boat repairing agent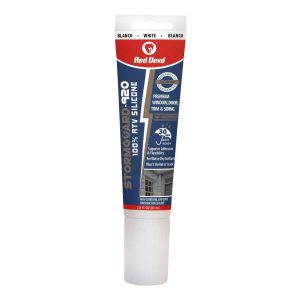 This silicone sealant is designed for watertight and airtight protection. RTV formula stands for room-temperature-vulcanizing properties. It means that sealant dries really fast when exposed to the air.
It is recommended for processing windows and doors, dryer vents and skylights. The super-strong adhesive formula allows you to use the product for various indoor and outdoor purposes, including the repair of aluminum boats.
Pros
Pros
Can be applied for wet and dry surfaces;
Lifelong guarantee;
Super strong adhesion;
Works in 30 minutes after application;
Can be easily cleaned with solvents;
Cons
Cons
This sealant is not removable;
Non-paintable.
The most attractive property of this sealer is its fast curing time. You will need only 30 minutes to have everything ready. It spreads evenly and dries to the state of dense rubber. You will need a bit of the substance for repair. It will help you to easily fix many things around, including non-porous areas of boats. Note that after a tube is opened, the sealant will harden over time.
---
Leak Sealer for Aluminum Boats – fast boat leakage treatment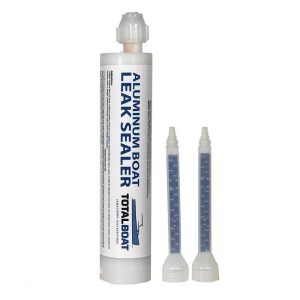 This sealant comes as a cartridge containing two tubes. One is filled with resin, and the other contains hardeners. These both automatically mix together in a correct ratio.
The cartridge will fit well with a standard caulking gun. It is recommended to paint over the cured areas to protect them well from UV light. The repaired area will be ready in 75 minutes.
Pros
Pros
Easy to use;
Paintable;
No need to mix;
Water-resistant;
Fast-curing;
Cons
Cons
This sealant is ideal for repairing rivet holes and leaking seams in your aluminum boat. You just need to prepare the metal surface properly to achieve ideal adhesion. The manufacturer recommends using sealant at a temperature above 40 degrees. However, some users still recommend applying it in a bit warmer environment. You may need a caulking gun if you need to seal many areas. Other than that, you will be satisfied with the result this sealer brings.
---
Buyer's Guide
Sealants can be grouped according to several criteria, the most important of which are the chemical base, purpose, elastic properties. The choice of sealant for certain conditions will depend on the set of these features. Often, people struggle when choosing a sealant since the selection is diverse, and the quality of repair and installation depends on the appropriate choice.
Acrylic sealants
It is a polymer that contains acrylic acid compounds. This type of sealant can be applied both externally and internally. However, you should take into account that it changes consistency for softer under the influence of heat, and gets harder in the cold. It can cause its peeling off the surface.
The acrylic sealant is moisture resistant. But during constant contact with water, it loses its adhesive properties, which may result in delamination.
Benefits:
Good adaptive quality;
Excellently sticks to such materials as metal, wood, and plastic;
Works well in a wide temperature range;
The sealant is solvent-free (there are no odors when working with it);
It is not afraid of UV rays and water.
Silicone sealants
Thus sealing material contains about 45% of silicone rubber. It acts as a base that hardens at room temperature. It will work well on a variety of surfaces like concrete, plastic, aluminum, galvanized metal, as well as wood, stone, ceramics. Silicone sealant can keep for over 20 years after application.
One-component silicone sealant hardens due to moisture in the air.
Two-component sealants use a catalyst for curing. They are mainly used in the industry.
Advantages:
Extremely durable. These sealants work for 15-20 years;
Resistant to UV radiation and other aggressive factors;
Retains its properties in any temperatures;
Sticks well to almost all types of surfaces and does need primers;
Very flexible and can repeat any shape without deformation;
Polyurethane sealants
It is a synthetic multipurpose material. Its most winning feature is that it can easily replace rubber and plastic.
These sealants are designed for sealing joints and seams in building structures. However, due to its powerful material properties, it has acquired a wide range of applications. Polyurethane sealant contains caustic components. So you must strictly follow safety measures when working with it. It is advisable to use it only in the open air.
Advantages:
High adhesion;
High elasticity;
Withstand mechanical stress and are resistant to ultraviolet light, moisture;
Frost resistance as well as the ability to work at low temperatures;
Resistant to corrosive agents;
Bonds well to various materials, including aluminum;
Paintable;
Solvent-free;
Does not emit harmful substances after polymerization, as a result of which it can be used in residential premises;
This sealant cures when exposed to humidity.
Bituminous sealants
It is one of the oldest sealants produced using rubber and bitumen. Such sealants do not require special skills. You will literally need half an hour to seal cracks and seams in the roof, boats, drainage system. Bituminous fillers do not dissolve in water, so you may apply them even in high-moisture environments. In addition, you might be interested in sealants for metal roof.
The disadvantage is that you will not be able to paint it due to high elasticity, and you will not be able to use them at sub-zero temperatures. But at the same time, this sealant can be used without special preparation of the surface before the application. The high adhesion properties of bituminous sealants allow skipping this stage.
Advantages:
High elasticity;
Sticks excellently to most surfaces;
Resistance to extreme weather conditions;
Protects an item from corrosion;
They have a high operating temperature range;
Rubber sealant can be painted;
The service life of these sealants is about 20 years.
Special tips for better results
If you are going to use a new sealant, take time to read the instructions. You need to check its compatibility with different materials, application rules, surface preparation rules, etc.
Most of the fillers need special pretreatment of the surface. It must be clean, dry, and free from traces of paint, varnish, old coating. You may need a special solvent to degrease the surface;
Use the right dose. Do not skimp on sealant, especially if you want to restore the hull below the waterline;
Observe the time required for the sealant to fully cure. Most often, it takes from 24 hours to a week;
Recheck if nuts are tight enough when using mechanical fasteners with sealant. It will increase water resistance;
When working with sealants, use personal protective equipment and work in a well-ventilated area;
If you happen to spill or use too much sealant, have acetone and kerosene at hand to remove these. Always read the manufacturer's instructions on what solvent is recommended for sealant cleaning and removal.
FAQ
What is the best way to seal the bottom of an aluminum boat?
The best way to seal the bottom of an aluminum boat is with marine-grade epoxy. Marine-grade epoxies are designed to withstand extreme temperatures, moisture, and pressure which makes them ideal for sealing aluminum boats. The epoxy must be applied according to manufacturer instructions and in some cases, may need to be reinforced with additional protective layers if needed. Properly sealed, an aluminum boat will last much longer than one left untreated. It's important to use quality materials when sealing your boat, so make sure you do your research before beginning the project!
What is the best marine adhesive sealant?
When it comes to marine adhesive sealants, 3M 5200 is one of the most popular and highly recommended options. This all-purpose polyurethane sealant provides a strong, flexible bond that won't crack or shrink over time. It can be used in various applications, including on wood, metal, fiberglass, rubber, and plastic surfaces. Plus, it's waterproof and will remain bonded even when exposed to harsh weather conditions. If you're looking for a reliable marine adhesive sealant that will stand up to your toughest environments, 3M 5200 is definitely worth considering.
Another great option is Loctite PL Marine Fast Cure Adhesive Sealant. This product is specifically designed to form a waterproof bond that won't corrode when exposed to saltwater. It's simple to use and can be applied on wet or dry surfaces, so you don't have to wait for ideal conditions. Loctite PL Marine Fast Cure Adhesive Sealant also dries quickly and provides protection against both UV rays and water damage.
Finally, if you need an adhesive sealant with a bit more versatility, consider Dow Corning 795 Silicone Building Sealant. This product is incredibly flexible and tolerant of movement in the substrate without cracking or breaking down over time. Plus, it creates a strong bond on virtually any surface, from glass to aluminum. On top of all that, Dow Corning 795 Silicone Building Sealant is also easy to apply and won't corrode in saltwater.
How do you stop aluminum corrosion on a boat?
If you want to prevent aluminum corrosion on your boat, the best thing to do is to make sure it's kept clean and dry. You should also periodically inspect your boat for signs of corrosion, such as pitting or bubbling paint. If any of these signs are present, take the necessary steps right away to fix them before they worsen.
To further protect your boat from aluminum corrosion, use a protective coating like primer or sealant. Apply two coats of this product every two years and be sure to follow the instructions carefully so you get the best results. You can also apply a wax-based barrier to your boat to create a protective film that will help keep out moisture and dirt. Finally, be sure to rinse off any salt water or other corrosive materials from the boat as soon as possible after exposure.
What should I coat the bottom of my aluminum boat?
Before you start coating the bottom of your aluminum boat, you'll want to make sure it's clean and free of any dirt or debris. You can use a pressure washer to get rid of any stubborn dirt, then rinse off the area with fresh water. Once the surface is completely dry, it's time to apply the coating.
Epoxy coatings are one of the most popular options for aluminum boats because they provide great protection against corrosion while also providing an attractive finish. To apply epoxy paint, you'll need a brush and some rags. Start by brushing on a thin layer of epoxy over the cleaned surface, making sure to cover all areas evenly. Let the first layer dry before adding more, as necessary.
Another popular coating for aluminum boats is polyurethane paint. This type of coating provides good durability and protects against UV rays, making it an ideal choice for outdoor use. To apply this type of paint, you'll need either a roller or a spray gun. Start by applying the paint in thin layers and allowing each layer to dry before adding additional coats as needed.
Will 3M 5200 stick to aluminum?
Yes, 3M 5200 Marine Adhesive Sealant will stick to aluminum. It's designed to form a strong bond between aluminum and other materials and can be used on wood, fiberglass, metal and plastic. It's highly resistant to weathering, saltwater exposure and shock, making it an ideal solution for permanent bonding in marine environments. Additionally, it has excellent adhesion properties so you can count on a secure bond that won't degrade over time when applied correctly. So if you're looking for a reliable adhesive to use with aluminum or other materials in your next project – 3M 5200 is worth considering!
Does 3M 4200 stick to aluminum?
Yes, 3M 4200 is a great option for sticking to aluminum. It's an adhesive sealant that works well with metals and other materials like wood, glass, tile, stone, and more. The product forms a long-lasting bond that resists vibrations and extreme temperatures. You can also use it on wet or dry surfaces for maximum versatility. Plus, it's quick-curing so you don't have to wait around for the bond to form. All in all, 3M 4200 is the perfect choice if you need a reliable adhesive sealant for your aluminum project!
Is flex seal good for aluminum boats?
Flex Seal can be a great solution for patching aluminum boat surfaces. It's easy to use and provides an airtight seal that prevents water from seeping in. Depending on the size of the damage, you may want to consider using Flex Tape – a thicker version of Flex Seal – instead. Both are incredibly strong and provide a permanent bond that is resistant to heat, cold and moisture. Whether you're dealing with minor dents or major cracks, flex seal products can make repairs much easier and affordable. With just one application, your aluminum boat should be good as new!
Should I wax the bottom of my aluminum boat?
Waxing the bottom of an aluminum boat can be beneficial in some circumstances. If your boat is used primarily in freshwater, waxing can help protect the hull from corrosion and oxidation caused by water and air exposure. Additionally, a waxed hull on an aluminum boat is smoother, so it can provide less drag when moving through the water. Waxing does require regular maintenance as fading or wearing off may occur depending on usage and environmental conditions. If you decide to wax you should use a product specifically designed for aluminum boats, such as a marine-grade paste wax that includes UV protection. Applying this product correctly is important; make sure all dirt and debris have been removed before applying a thin layer of paste wax over the entire hull. Lastly, it is a good idea to wax your aluminum boat at least once a year, or more often if you use it frequently.
Ultimately, the decision of whether to wax your aluminum boat comes down to personal preference and usage conditions. If your primary concern is longevity and protection, then waxing your boat may be worth the effort and regular maintenance. On the other hand, if you only use your boat occasionally in freshwater and don't mind some oxidation and corrosion over time, skipping this step might make sense. Ultimately, it's up to you!
Is Loctite marine sealant permanent?
Yes! Loctite marine sealant is designed to be a permanent solution for your boat and marine-related needs. This sealant can withstand extreme temperatures and weather conditions, making it an ideal choice for sealing any part of your boat. Plus, its strong adhesion ensures that once applied, this sealant is not going anywhere anytime soon! No matter what your project requires, you can rest assured knowing that with Loctite marine sealant, you'll have a long-lasting solution perfect for all of your boating needs.
How do you seal a leaky aluminum boat?
If you have a leaky aluminum boat, the best way to stop it from leaking is to use a patch kit. Patch kits typically come with a special adhesive that can be used to seal up any cracks or holes in your boat's hull. To fix the leak, start by cleaning off the area around the hole with abrasive material and then wiping it down with acetone or rubbing alcohol. Next, apply a layer of adhesive to both sides of the hole, making sure that all edges are completely covered. Finally, press two pieces of aluminum foil together on either side of the hole and hold them in place until they cure (usually about 20 minutes). This should help to create a reliable seal and help keep your boat watertight. If you're still having trouble, it may be best to consult a professional for further assistance.
Is it better to polish or wax an aluminum boat?
It depends on the state of your boat, as well as your aesthetic preferences. If you want a glossy, shiny finish to your aluminum boat, then polishing it is probably the way to go. Polishing the surface gives you more control over the type of shine and luster you want for your boat. It also tends to last longer than waxing.
On the other hand, waxing can be great for providing an extra layer of protection for your aluminum boat against environmental elements like sun exposure and saltwater corrosion. Waxing can also help repel dirt and grime better than polishing alone. So if you're looking for some extra protection against wear-and-tear while still having a nice shine, waxing might be a better option for you.
Ultimately, the decision between polishing and waxing your aluminum boat comes down to what finish you want and how much maintenance you're willing to put in. Both options will help keep your boat looking great, so experiment until you find the perfect look for your vessel!
Can you use car wax on an aluminum boat?
Yes, you can use car wax on an aluminum boat. However, it's important to note that most car waxes contain solvents and other harsh chemicals that could potentially damage the aluminum surface if used too often or left on for too long. It is recommended to test a small area of the boat before applying car wax over the entire surface to make sure it won't cause any harm. If you decide to use car wax, be sure to follow all directions carefully and only apply a thin coat of wax at a time. For best results, try using a marine-grade polish specifically designed for aluminum boats. This type of polish will help protect your boat from corrosion while providing a beautiful shine.
Useful Video: Jon Boat Transom Fix: 3M Marine 4200 Quick Cure 3of3
Conclusion
There are many ways to protect aluminum boats from aggressive environments and repair in case of some issues. Modern technologies allow boat owners to effectively protect their boats from water, moisture, and rust. And marine sealants will come to your rescue when you still find some leakage or holes. We hope this material will be useful for you to learn more about existing sealants and facilitate your selection process.
---