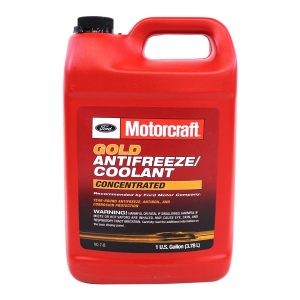 Ethylene Glycol-Based
1 Year Antifreeze, Anti-Boil And Corrosion Protection
For Use In Gasoline And Diesel Engines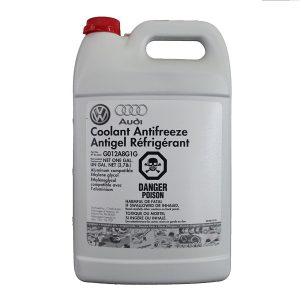 Aluminum Compatible
Use All Year To Protect Against Frost, Overheating, Corrosion
OEM Audi/Volkswagen Engine Coolant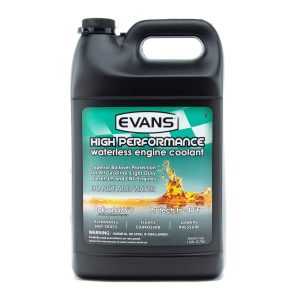 Freeze Protection To -40F
For Light Duty Diesels, LP And CNG Vehicles
Contains No Water, Effectively Eliminating Corrosion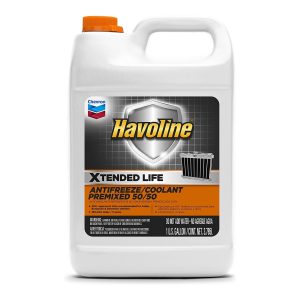 OEM Approval
For Domestic, European Automotive & Light Duty Truck
Contains Ethylene Flycol And 40 Mg/Kg Denatonium Benzoate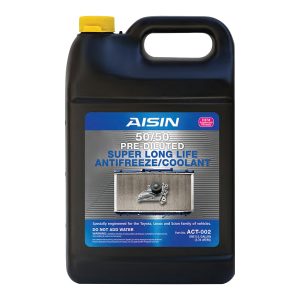 No Need To Add Water
For The Toyota, Lexus, And Scion Family Of Vehicles
Specialized Inhibitors Maximize Temperature Protection
---
Choose the Best Antifreeze for Aluminum Radiator
Customer's Choice: the Best Rated Antifreeze for Aluminum Radiator
143 users answered this survey. Please help us improve this review!

40.56% of users selected Genuine Ford Fluid VC7B, 9.79% selected Audi Coolant Antifreeze, 14.69% selected Evans EC53001, 24.48% selected Havoline Xtended Life and 10.49% selected Aisin ACT002 Anti-Freeze. Every month we analyze your answers and change our rating.
---
Antifreeze is a liquid that prevents the engine from overheating in both hot and cold conditions. Antifreeze liquid is usually a combination of water and glycol compounds that serve as lubricants and anti-corrosion products to hold your aluminum radiator in good working order.
Are antifreeze and coolant the same products? 
Antifreeze is sometimes called a coolant. Are these products the same or different? They are no longer different. They used to be two different liquids in separate bottles – the antifreeze was mixed with the coolant or water in the car's radiator to cool it down. But contemporary products include both antifreeze and coolant liquids in the same bottle relieving you of the hassle of mixing them yourself.
Just check the compatibility of the vehicle's brand and color before pouring it into an aluminum radiator. Keep in mind that some antifreeze manufacturers sell their products in a concentrated form so you have to dilute them with water. Always read the label before using the new antifreeze product. 
Why should you buy a premium antifreeze product: 
To control the radiator's temperature;

To prevent corrosion;

To avoid engine damages;

To replace distilled water;

To prolong the service of engine components;
Check the following comparison table with top 5 premium antifreeze products for an aluminum radiator. The individual reviews with pros and cons, as well as the buying guide will help to make a decision before buying. 
Genuine Ford Fluid VC-7-B Concentrated Antifreeze – the best for Ford vehicles!
This is the authentic antifreeze provided by Ford specifically for Ford automobiles. The coolant provides Ford owners with immediate confidence that the substance would be of a good standard and completely compatible with Ford cars.
This coolant comes in a condensed type that is why you should mix it with water before adding it to your coolant system.
Pros
Pros
Genuine Ford cars;
Anti-corrosion properties;
Compatible both with petrol and diesel engines;
Includes a bittering agent;
Cost-effective;
Cons
Cons
Pricey;
Have to be diluted;
This liquid will maintain your Ford vehicle cold and avoid radiator corrosion. Ford's fluid has a distinct yellow color that works well on both diesel and gasoline engines.
---
Audi Coolant Antifreeze Antigel Refrigerant – the best for ethylene glycol engines!
If you are the proud owner of an Audi or Volkswagen, make sure you just use the right coolants for your luxury car. This advice is one of the best OEM formulations available, and it is designed specifically for your car.
This product is based on ethylene glycol. It is safe with alloy-based cooling systems because the product is compatible with aluminum radiators. The antifreeze is corrosion-resistant, and it prevents calcium deposits. No matter how hot or cold it is outside, the coolant will hold the engine in good working order for a long time.
The maker says that since the product is a real OEM, so it will last for two years.
Pros
Pros
Ethylene glycol;
Compatible with aluminum radiators;
Can be used all year round;
Suitable for all engine types;
Includes a bittering agent;
Prevents calcium deposits;
Corrosion-resistant;
Cons
Cons
Doesn't include phosphates;
It is not pre-mixed;
The cap is hard to open;
This is an excellent pick for cars equipped with G11, G12, G12+, or new G13 engines. However, this coolant often works great for modern cars that use lilac or pink coolants.
---
EVANS Cooling Systems EC53001 Waterless Coolant – the best for the boiling point!
This Evans waterless engine coolant is intended for both new, antique, and retro gasoline-powered cars, medium-duty diesels, LP, and CNG vehicles. Evans NPG+ and NPGR advantages are combined in the Evans High Performance Coolant. NPG+c offers outstanding cooling protection for marine and light aircraft engines.
The boiling point of the Evans Waterless Coolant is 375F, which is much higher than the boiling point of most engine coolants. This removes the vapor barrier, which may trigger hot spots and pre-ignition in engines using water-based coolants. Evans Waterless Coolant keeps the coolant liquid and in direct touch with the internal engine parts, resulting in reliably efficient cooling.
Pros
Pros
Its universal formula is compatible with all engine types;
The boiling point is high;
Doesn't need additive SCA;
Doesn't include phosphates or silicates;
Low toxicity;
Freeze protection below -40F;
Cons
Cons
Not for use in motorcycles;
Expensive;
May over-heat in slow traffic;
The Evans Cooling Systems antifreeze reduces pre-ignition and engine knock induced by overheating, resulting in more power and better fuel economy.
---
Havoline Xtended Life Antifreeze/Coolant – the best for long service!
Since it contains no silicate, the Havoline antifreeze keeps the engine cool and going smoothly in the winter. A single-phase, ethylene glycol coolant that provides long-lasting safety for almost all cars and light trucks.
Its formula is made with organic additives clear of silicate, borate, nitrite, phosphate, nitrate, and amines. It is available as a concentrated product and a 50/50 premix.
Pros
Pros
Doesn't include silicate;
Compatible with Hybrids;
Comes concentrated or pre-mixed;
The lifetime of 150,000 miles;
Wide application;
Enhanced heat transfer;
Made in the United States;
Cons
Cons
Has to be tested before putting in a boat engine;
Only for ethylene compatible vehicles;
The Havoline coolant complies with the specifications of Ford WSS-M97B44-D, MB 325.3, GM 6277, and Volkswagen TL 774F. The Havoline Extended Life Coolant DEXCOOL is free of inhibitors including silicates, which are abrasive to water pump seals.
---
Aisin ACT002 Anti-Freeze – the best for cost-effectiveness!
This Aisin coolant is a budget-friendly antifreeze product. Aisin's ACT002 is pre-mixed from the factor, so you don't have to think about combining it with water yourself. Furthermore, the solvent has a long existence, meaning it can keep you working for a few years before needing to be replaced by a new coolant.
The ACT002 is designed specifically for Toyota cars, but it also operates for Toyota subsidiaries such as Lexus. However, this coolant should be compatible with almost every automobile and fulfill the simple function of being a decent engine coolant.
Pros
Pros
Compatible with many vehicles, especially Asian brands;
Comes pre-mixed;
It lubricates gaskets and seals;
Cost-effective;
Long service;
Cons
Cons
The dangerous chemicals are restricted in some states;
It is compatible with the majority of Asian cars on the U.S. market but still double-check before installing it.
---
The Buyer's Guide
Types of antifreeze products:
1) Universal 
Universal coolants, also known as 50/50 pre-mix coolants, are a form of universal coolant. This is because they produce 50% demineralized water. As a result, there is no need to dissolve the solvent before using it. Universal coolants provide a low silica content to shield the engine and radiator from corrosion.
2) Organic 
Organic antifreeze is made with Organic Acid Technology (OAT). Phosphates and silicates are removed from the liquid body, and corrosion inhibitors are added to avoid rusting. This antifreeze comes in dark green, brown, blue, pink, and red. A conventional organic coolant has a service life of 150,000 miles before being replaced.
3) Inorganic
Inorganic antifreeze is made from ethylene glycol and is made with Inorganic Acid Technology (IAT). It also includes silicates and phosphates that may induce corrosion if not washed out after 30,000 miles of operation. Inorganic coolants are appropriate for older cars manufactured between the early 1920s and the late 1990s. It is available in two colors: yellow and green.
4) Hybrid organic acid technology (HOAT)
HOAT is an industrial acid with silicates as additives. The silicates prevent corrosion on the engine's alloy components. HOAT coolants have a working period of 5 years or 150,000 miles before being flushed. This coolant can be yellow or orange.
Tips for users: If your car was built between the 1920s and the 1990s, you can use Inorganic Acid Technology (IAT) antifreeze. Choose Organic Acid Technology (OAT) antifreeze whether you buy a Toyota, Honda, GM, or some other recent model with an aluminum radiator. If you have an Asian or European car, you can use Hybrid Organic Acid Technology (HOAT) Antifreeze.
Fuel type
When it comes to antifreeze specifications, diesel engines vary from petrol engines. Diesel motors, for example, are more vulnerable to cylinder wall oxidation. Users should refill the radiators with antifreeze including Supplemental Coolant Additives (the short is SCA) to prevent this. It is a good idea to read the car manufacturer's guide to consider the engine specifications and the suggested antifreeze.
Temperature range
This is one of the most important decisions to make when purchasing antifreeze. The environment can also determine the proper radiator coolants for your car. Some are built to withstand more severe weather conditions than others. For example, if the temperature in your region drops below 34 degrees Fahrenheit on a regular basis, it is advised that you buy a 70-30/60-40 antifreeze to distilled water product.
Because of the severe weather in certain areas, Alaskans and Canadians will want to choose a 70-30 mixture for cooling down their aluminum radiators. The higher the antifreeze ratio, the lower the freezing point (with decreasing returns above a 70/30 ratio). A 50/50 mixture, on the other hand, can perform heat more effectively than a 70/30 mixture. Temperatures as low as -30F should be safe with a 50/50 blend.
Freezing/boiling points
The freezing and boiling points of an antifreeze should be high. Antifreeze coolants must tolerate a great deal of heat before dissolving and vaporizing. They should be stable at the temperature level of 200 degrees Fahrenheit. And at -20F, the coolant keeps the engine from freezing.
Color-coding
Antifreeze coolants come in a variety of colors that indicate that the liquid is formed in a chemically distinct fashion. Color, for example, denotes coolants manufactured with Inorganic Acid Technology and containing silicates and phosphates as the primary corrosion inhibitors. Orange coolants are made of Organic Acid Technology and use corrosion inhibitor additives. Orange coolants often have a 3-year longer lifespan than green coolants.
Additives
Most coolants contain additives that offer the lubricant additional properties that improve its consistency. Demineralized water, prepared as a 50/50 mix, is a popular additive. Ethylene glycol, which has a reduced freezing point and is inexpensive to produce, is another common additive. Non-toxic additives that resist degradation of the vehicle's cooling system include silicates, phosphates, and propylene glycol.
Other factors to consider: 
Always take into account the engine type – petrol or diesel;

Check what your car requires – propylene glycol or ethylene glycol based antifreeze;

Anti-corrosion properties on aluminum radiators;
How to avoid mistakes when using an antifreeze product for an aluminum radiator?
The trick to extending the existence of an aluminum radiator is not so much the brand of coolant as it is the type of water. Both coolants on the market today can properly secure aluminum radiators, but purified water must be used. Concentrated coolants pose a risk since they enable the installer to choose the water supply, which is when many people go wrong. Regardless of the inhibitor kit in the coolant, all water supplies produce minerals that will chew into aluminum.
So, what are the potential water sources? First of all, there is well water that is usually iron-rich and extremely strong. If the well water has been softened, it includes sodium or salt. The calcium, fluoride, and chlorine levels of supply water can vary depending on where you live. As a result, the best way to guarantee that the water you consume is clean of chemicals and minerals is to buy bottled water from the nearest grocery store.
Many car owners were spoiled by the older copper radiators because they were too forgiving of these minerals. Older people would struggle with this water provision because they have already used other forms of water without issue. The solution to this water issue is simple: do not buy condensed coolant. To minimize the risk of defects, purchase the coolant in a pre-mixed type. About any pre-mixed coolant already includes purified water and the correct ratio, making it easy to fill your coolant tank.
You no longer must pre-mix the coolant or wonder what water ratio you have. Pour it in and set it aside. To be safe, it is advised that you get a 5-year coolant and replace it every 3 years.
Useful Video: Best 7 Coolant
Final thoughts
Hopefully, you can shop for an antifreeze brand to fill in your aluminum radiator without making a mistake. These products are trustworthy and can be used on a regular basis during cold seasons. Make sure to leave comments and your feedback on these products.
---