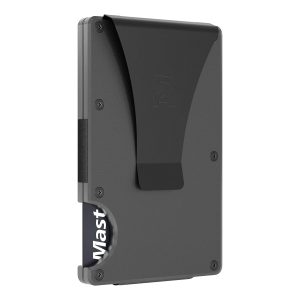 RFID Blocking
Holds 1-12 Cards Without Stretching Out
Integrated Money Clip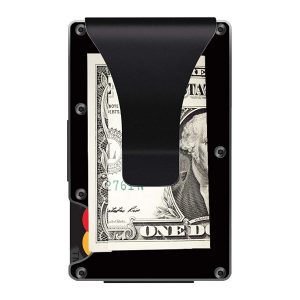 Money Clip & Elastic Webbing
Premium Aviation Aluminum And 304 Stainless Steel
RFID Blocking Credit Card Theft
Secrid Cardprotector Wallet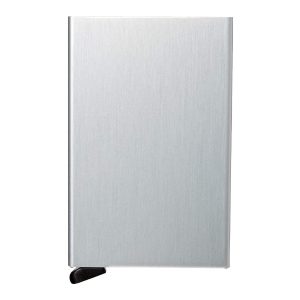 4 Embossed/6 Flat Plastic Cards
The Aluminium Casing Protects From Bending And Breaking
The Aluminium Casing
Maverick Systems Holder/Travel Wallet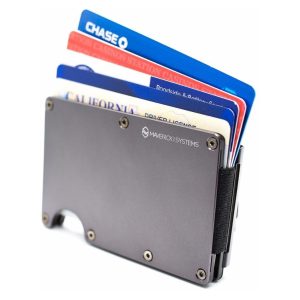 RFID Blocking
Expands For Up To 10 Slots For Your Credit Cards
Silicone Material
Roco Aluminum Slim Wallet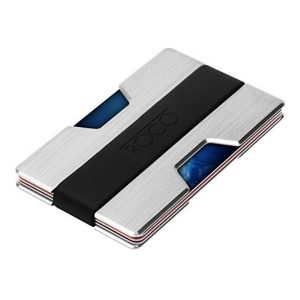 RFID Blocking Money Clip
Ultra Slim Crafted With A High Grade Aluminum
Hold Up To 20 Cards
---
Choose the Best Aluminum Wallet
Customer's Choice: the Best Rated Aluminum Wallets
50 users answered this survey. Please help us improve this review!

54% of users selected The Ridge Metal Wallet For Men, 8% selected LOOKISS Aluminum Wallet, 6% selected Secrid Cardprotector Wallet, 20% selected Maverick Systems Holder/Travel Wallet and 12% selected Roco Aluminum Slim Wallet. Every month we analyze your answers and change our rating.
---
Nowadays, traditional wallets make way for aluminum wallets. The latter ones are a compact version of a wallet that easily fits any pocket but is still capacious enough to store cards, bills, and cash. Most of such models are fitted with
RFID protection
from thefts making carrying them safe and less stressful. Aluminum wallets do good when you are traveling, hiking or performing any other outdoor activity. Made of aluminum, these wallets are more durable and shock-resistant in comparison to the traditional ones.Apart from their functionality, such wallets give an impressive look to their carriers due to their sleek and stylish design. Therefore, having a solid stylish aluminum wallet will not only keep your things safe occupying little space in your pocket but also will add elegance to your personal style.
In this article, we have selected Top 5 Best Aluminium Wallets with characteristics that are likely to satisfy your needs. The basic issues can be viewed in the Comparison Table below.
The Ridge Front Pocket Wallet for Men with Money Clip – the Most Solid Option!
The Ridge Wallet is a metal purse for men designed in a minimalistic style. This model is slim and can be stretched. Up to 11 cards can be effortlessly pushed in and the outside notch enables you to push them out easily.
This product may be used to carry credit cards, debit cards, business cards, bills, etc. The Ridge Wallet is fitted with a money clip, made of gunmetal, that enables the carrier to keep some cash or bills safe out of the wallet. The design of the model includes RFID-blocking plates that provide security and safety making it impossible for frauds to read out valuable personal info from your cards. Weighing about 3 ounces, the Ridge Wallet is 3.39 inches long, 2.13 inches wide and 0.24 high.
Pros
Pros
Solid and durable due to military-grade materials;
Is covered by a lifetime guarantee;
Is highly protected against RFID Chip Readers;
Slim and capacious;
Practical though sleek;
Provides enhanced security due to a money clip integrated;
Features replaceable elastic and screws;
May undergo engraving;
Arrives in a presentation box with a manual, a sticker, a screwdriver, and extra screws.
Cons
Cons
Durability is questioned;
Tends to fall apart quite soon;
The manufacturer does not provide engraving service.
The Ridge Wallet may be a perfect choice for those who appreciate the convenience, safety, and style.
---
Raccoon Brand Wallet With Cash Strap for Men – The Ideal Combination of Quality & Style!
The Raccoon Brand Wallet for men is a convenient cash & credit card holder made of firm aluminum metal. Designed in a minimalistic style, the wallet could be a useful gift to the men whose convenience you take care of.
A cash strap is integrated into the wallet. However, if one holds cash in such a way, the money may be easily seen by others. Due to the RFID blocking system, thieves will be unlikely to read out and steal your personal details from the cards in the wallet. Weighing about 2 ounces, the Raccoon Brand Wallet is rather lightweight and slim. It can contain up to 12 cards without stretching. As for dimensions, it is 3.4 inches long, 2.2 inches wide, and 0.3 inches high.
Pros
Pros
Made of high-quality material;
It may be a great idea for a gift;
Is well-protected against RFID chip readers;
Lightweight and slim;
Functional and capacious;
Has a solid construction and stylish design;
Features a cash strap integrated;
Contains a removable money clip;
Can be engraved.
Cons
Cons
Getting cards in and out requires some efforts;
Keeping money on the outer side of the wallet may be risky.
The Raccoon Brand Wallet may suit ideally to men who like minimalism and functionality combined.
---
Secrid Cardprotector Wallet – the Best for its Durability!
This Cardprotector Wallet is a unisex model, manufactured by Secrid in the most minimalistic style. Its color is brushed silver but the model is available in other color gamuts as well.
Made of aluminum, the Cardprotector Wallet reliably protects the cards contained from any wireless interference. One can input either 4 embossed cards or 6 flat plastic ones in it. The cards can be slid out with a single move due to the patented mechanism. Its length is about 4 inches, width – 2.5 inches, and height – 0.3 inches.
Pros
Pros
A reliable and lightweight wallet option;
Available in a few colors;
Features a sleek surface and minimalistic design;
Ensures the ease of the cards selection;
Cards tend not to drop if the wallet is in the upright position;
The card ejecting mechanism does not jam.
Cons
Cons
Is meant for cards only;
Cards may wear since they often rub against each other;
Those who put quality above style may like the Secrid Cardprotector Wallet.
---
Maverick Systems Travel Wallet – The Slimmest Card Holder
Developed by Maverick Systems, this Travel Wallet is a convenient holder for credit and debit cards that is easy to carry in the pocket. A rather convenient decision for traveling. It was manufactured in China, though designed in California.
Being equipped with the RFID blocking system, this wallet ensures info security disabling frauds to scan your cards. The Maverick Systems Card Holder consists of an elastic, silicone, black band that keeps your cards, and a money clip to hold your cash bills. The Travel Wallet is ultra-slim, its thickness is only half an inch. Nevertheless, it can comprise up to 10 cards depending on their thickness. The corners of the Card Holder are rounded.
Pros
Pros
Made of top-quality material;
Fitted with anti-RFID technology;
Ultra-slim and compact;
Has a classy appearance, sleek and modern;
Includes a money clip;
Prevents cards from bending;
Costs reasonable money;
Manufacturers guarantee a full money back if expectations are not met.
Cons
Cons
Contains non-removable bands.
The Maverick Systems Travel Wallet will do good to those who hate bulky wallets or stuffed pockets but like stylish, capacious, compact card and cash holders that fit perfectly into their pockets.
---
ROCO MINIMALIST Wallet – The Best For Flexibility!
This is an improved version of ROCO MINIMALIST Wallet comprising wider bands. It comes with two bands: one – for a greater amount of cards (up to 20), and the other one – for a smaller amount (up to 8-10).
The money clip can hold up to 20 bills. The Rocco Minimalist Wallet ensures protection from thieves and their attempts to steal valuable info from the cards you keep in the wallet, be it credit/debit cards, ID, driving license, etc. Made of premium quality aluminum metal, the wallet is supposed to serve a lifetime.
Pros
Pros
It holds cards firmly;
A flexible and practical option;
Has an elegant look;
Comes with 2 bands as a set;
Durable, can last a lifetime;
Smooth edges, rounded corners;
Fair correlation of quality and price;
Cons
Cons
RFID blocking does not always work out;
Cards may scratch with time;
May appear to hold fewer cards than 220 specified.
The Rocco Minimalist Wallet may serve well for those who appreciate flexibility.
---
The Buyer's Guide
Why do I need an aluminum wallet?
An aluminium wallet is a functional accessory that adds specialty to your style. However, the benefit of such wallets is not limited to a stylish look. You can hold all the necessary cards at hand, in your pocket, gathered in a very compact way. An important fact is that by using them you protect your cards from possible scratching that can lead to their splitting at the ends.
Isn't an  aluminium wallet too heavy?
Of course, since they are made from metal, these wallets have a prominent weight.They definitely can be heavier than traditional wallets. However, it is not felt in the background of the benefits aluminium wallets actually provide to their carriers. 
What RFID-blocking technology is
RFID stands for Radio Frequency Identification Devices. These devices are microchips embedded into credit cards to increase the transaction speed. The chips contain crucial financial and personal details. This data can be stolen by being read out with the help of radio waves produced by special devices. However, aluminum wallets protect your cards from radio waves due to a metal mesh that helps form a cage-like structure around the RFID chips preventing the radio waves from reaching the chips.
What is the radio-frequency identification?
Radio-frequency identification is a process aimed at identifying and tracking tags attached to some objects using electromagnetic fields. These tags may be your credit cards or a driver's license. In fact, they contain electronically stored information that can be read out through radio waves with the help of special denoting devices. So, the anti-theft RFID technology embedded in aluminium wallets blocks these waves protecting your personal info and ensuring safety.
Useful Video: 5 Best Minimalist Wallet for Men – Best Credit Card Holder RFID
Final Thoughts
Aluminium wallets are being used increasingly more nowadays, slowly replacing traditional ones. They offer wider opportunities to their carriers and safer to use. Thanks to the RFID technology, thieves will not be able to read out your private data from your cards.
In this review, we have tried to pick up the most winning options for you in terms of the quality, safety and style. We hope you will find our TOP 5 Best Aluminium Wallets beneficial for you and our considerations will help you choose a perfect wallet for you.