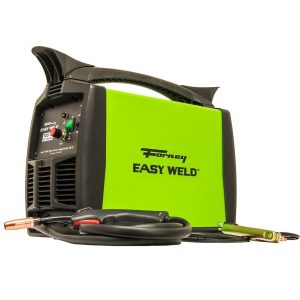 The Forney Easy Weld 125 FC is a basic flux-core welding machine. Some people call it a MIG machine although it does not require shielding gas like a typical MIG machine does. It also might be referred to as a wire feed welding machine, but just understand that you cannot add gas to this machine.
Forney Easy Weld 299 User Manual
Having problem? Download Forney Easy Weld 299 instructions.


---
Pros & Cons of Forney Easy Weld 299
Pros
Accepts 2 and 10 pound spools
120 volt input and 125 amp output
Gasless flux core welding only
The ground should not be attached to painted or coated metal
Cons
It is hard to set it up with flux core
---
Video Guide:Forney Easy Weld 299 Review
---