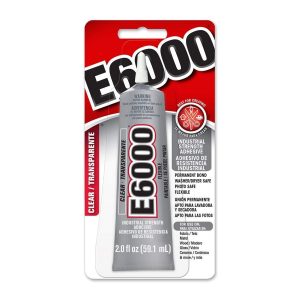 Can Withstand: -40 To 180°F
For Wood, Fabric, Leather, Ceramic, Glass, Metal And More
Non-Flammable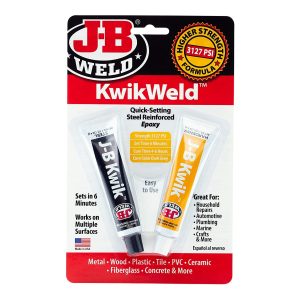 Can Withstand 230°F/110°C
For Metal, Plastic, PVC, Concrete, Ceramic & Tile
Waterproof, Acid Resistant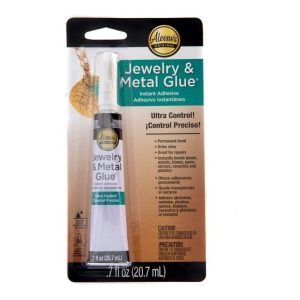 Waterproof & Impact Resistant
For Metal, Stone, Ceramic, Plastic, Mirror, Gem
Great For Repairs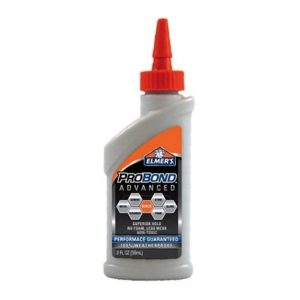 Non-Toxic, No Foam, Less Mess
For Metal, Glass, Ceramics, Wood, Stone, Concrete
100% Weatherproof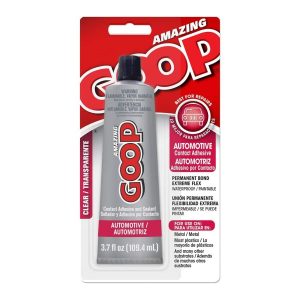 Insulate Electrical Wiring
Repairs Vinyl Tears On Car Seats, Floor Mats
Sealing Windshields, Headlights
---
Choose the Best Glue for Aluminum
Customer's Choice: the Best Rated Glue for Aluminum
2 users answered this survey. Please help us improve this review!

0% of users selected E6000 237032, 0% selected J-B Weld 8276, 100% selected Aleene's 21709, 0% selected Elmer's E7502 and 0% selected Amazing GOOP 160012. Every month we analyze your answers and change our rating.
---
Aluminum is widespread because it is quite durable and resistant to external influences. Aluminum has a number of characteristics that make it particularly difficult to bond using standard adhesives. The metal is covered with an oxide film that reliably insulates its surface from external influences, and in addition, it has extremely low porosity. These two properties considerably complicate the handling of aluminum elements. Therefore, when working with this metal, a lot of strong adhesives be powerless here, unfortunately.
If you still need to bond aluminum surfaces, you will have to look for a special glue. Unlike other adhesive mixtures, its composition is supported with special additives. And their task is to prevent the formation of an oxide film on the metal surface.
Joining aluminum surfaces with an adhesive at home is much easier than welding and, therefore, more commonly used. In order to successfully glue metal surfaces, you will need sandpaper, a special compound, and a degreasing agent (as a rule, acetone works well for this purpose).
Experts tips:
Aluminum surfaces will be firmly glued together by a two-component adhesive based on epoxy resin. But if it is required to join the surfaces made of aluminum alloy, then it is better to find a glue containing methyl acrylate.

For aluminum, only a special glue containing acids and alkalis is suitable. These components provide a degradation of the oxide film, which significantly improves the adhesion of the metal parts.

The use of adhesives based on the epoxy resin is strictly prohibited if, in the future, the product will be used for storing drinking water and food or will be in contact with them.

The means used for gluing aluminum do not provoke metal oxidation, unlike gas welding. As a result, the repaired product will last much longer. Another benefit of gluing is its low cost.
In this article, we will talk about the five best types of glue that can be successfully used for bonding aluminum surfaces.
---
E6000 Craft Adhesive –super-strong repair assistant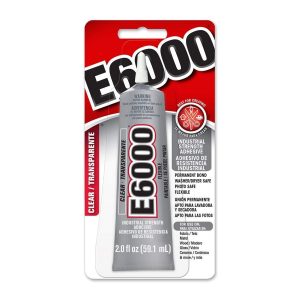 This universal glue bonds well to everything with industrial strength. You can use it for a number of surfaces, from ceramics to concrete. It will ideally work even for aluminum. This adhesive will become a must-have for people who like handicrafts and DIY things.
The glue remains flexible in extreme temperatures. It fully cures within 24 hours. You do not need to hold parts together for a long time after the application.
Pros
Pros
Extremely strong;
Could be used indoors and outdoors;
Creates flexible protection;
Non-flammable;
Weatherproof;
Cons
Cons
It is advisable to have a tube of this super potent adhesive at home. It will enable you to instantly repair literally everything around, including glass and metal. It is clear color but can be easily paintable. The adhesive does not harden instantly, so you will have time to refine it after application. Note that this glue is vapor-harmful, so it is recommended to wear a protective mask and gloves while working with it. It may be difficult to reopen it after use, so apply some Vaseline around the opening before closing with a cap.
---
Fast Steel-Reinforced Epoxy – a perfect bond solution for a metal.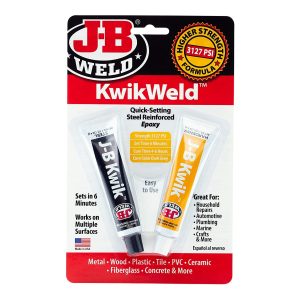 This adhesive works similarly to cold welding, which makes it perfect for metal adhesion. It comes in two tubes as a 2-part epoxy system. It will work equally well for home repair purposes and for industrial needs.
You will need to mix both components in 1:1 proportion, apply the mixture, and hold the parts for 6 minutes. The full curing takes from 4 to 6 hours, and after it, you can even drill it. The bond is permanent and very reliable.
Pros
Pros
Easy and solid fix;
Withstands very high temperatures;
Fast curing time;
Resistant to petroleum, acids, and chemicals;
6-minute set time;
Cons
Cons
Cannot be removed from clothes;
The glue is designed using cold welding technology that makes it especially workable for metals. It will form reliable connections on other surfaces. If you choose it to bond metal to metal, make sure to roughen the surface areas, it will provide a stronger result. Be careful when working with this glue. After it dries properly, you will not be able to remove it from clothing and other things.
---
Jewelry and Metal Instant Glue – a must-have for creative people.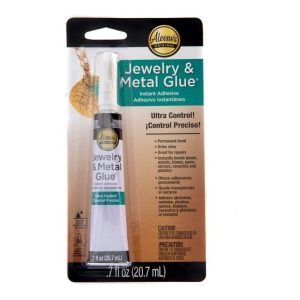 This little-dosage adhesive will be relevant in every home repair kit. It may not work for bigger repair projects but would be perfect for beads, glass, crystal, wood, and metal.
Actually, you can return to life many broken things around using this glue. Overall, it is an indispensable part of the creative people toolset.
Pros
Pros
Waterproof;
No-drip formula;
Fast-drying;
Easy to control;
Provides a stronghold;
Dries clear;
Cons
Cons
The glue comes in a small metal tube covered with a seal. It allows you to make a little hole with a pin in the seal and let it out in tiny portions. It makes the adhesive very convenient to work with very little items like beads and jewelry. And its beneficial feature is that it provides strong metal to metal adhesion. In most cases, the glue works instantly. But to ensure the best result, give it 24 hours to dry well. You should wear gloves while using the glue as it is extremely hard to remove. Keep glue nozzle clean after use not to struggle with its opening the next time.
---
Professional Multi-Surface Glue – a perfect weatherproof bond.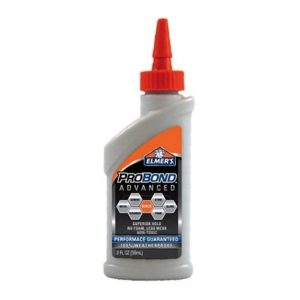 This liquid glue will work on any surface, both porous and non-porous. It is a watery time of glue that runs easily and fills the space. You will have to hold the parts together for 20-30 minutes and wait 24 hours to get a strong bond.
Being so easy to use, it provides good adhesion to metal, wood, and plastic surfaces. To achieve the best result on metal surfaces, the pieces should fit together with no gaps in between.
Pros
Pros
Does not contain hazardous substances;
Weatherproof;
Cleans easily with water;
Stronghold;
Cons
Cons
It should be kept away from fire.
Unlike other popular glues, it is produced with non-toxic formula. This feature makes it ideal for school and crafting projects. This adhesive can be also used for office purposes. It comes in a little bottle and is easily applicable. The only comment left by the customers is that this glue should be used with care on the wall as it is running, being a fluid. The glue dries colorless and can be paintable.
---
Automotive Adhesive – a perfect auto-repairing glue.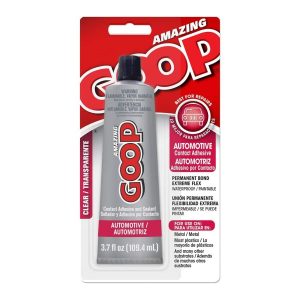 This one-component sealer can be used on a number of surfaces and is especially recommended for various auto-related repairs. You can use the glue to attach an emblem and other exterior trims. It will ideally cope with the small leaks as it has all features of a sealant.
The glue turns into a gel after squeezing and is easy to reshape. Hold two pieces together for some time to achieve a better effect.
Pros
Pros
Permanent bond;
Waterproof;
Paintable;
Insulate wires;
Cons
Cons
Very hard to remove;
Fixed surfaces should not often contact with water.
If you choose to fix aluminum parts with it, make sure to allow proper cure for 24-48 hours. If you have squeezed out too much glue, remove the excess, otherwise, it will take very long to dry out. Note that the stuff is very strong and somewhat toxic, therefore, avoid using it for internal parts of the car to avoid damages. It is more recommended for external use.
---
Buyer's Guide
Gluing any metal is a very difficult process, and aluminum is not an exception. In order for the joint to be strong and durable, it is important to choose the right glue. The process of gluing aluminum is a perfect alternative to welding. Unlike the second option, the gluing process is relatively simple.
But you need to take into account the fact that only a special glue will bring successful results when working with aluminum. It should contain alkali and acids to enable splitting of an oxide film and improve the quality of bonding.
Today, there are many types of glue for bonding metals. The best among them are metal adhesives with a high level of viscosity. When choosing this material, it is also vital to pay attention to its safety – some products emit toxic substances during curing.
Overall, a good adhesive base for joining metal products must meet the following technical requirements:
maximum strength and reliability;

longevity;

resistance to maximum temperature changes;

water resistance;

no expansion and shrinkage during curing;

corrosion protection.
Types of aluminum glues
Most often, the following two adhesives are used for aluminum bonding:
Polyurethane glue. It the most common solution for aluminum. Polyurethane glue can be one- or two-component. For the latter, you will need to use a hardener. This type of glue is characterized by increased plasticity and heat resistance. When using one-component polyurethane glue, the surface is to be pre-treated with water. It will provide better adhesion and firm fixation of the surfaces. Advantages of polyurethane compounds:
Super strong bond;

Anti-corrosion effect;

High resistance to loads;

Fast curing;

Temperature-resistant.
Polyurethane adhesive can be used to bond aluminum to aluminum and other materials including steel, resin, stone, and glass.
Epoxy-based glues.
This agent had high adhesive properties and exclusive resistance to temperatures. Epoxy adhesives are used for the following purposes:
For the installation of aluminum structures, for strong joining of materials with different thermal expansion parameters;
These adhesives are suitable for bonding aluminum to wood, stone, glass. For high-quality adhesion of surfaces made of various materials, you may need an additional mechanical device like an elastic tape.
If you opt for a glue that is based on epoxy resins, you should remember that hardeners are added in different proportions, it is vital to follow the manufacturer's instructions.
Instructions for gluing aluminum surfaces:
The areas you want to join must be free from rust and dirt. You can process the surface with a fine-grained using sandpaper).

The grease is easily removed with acetone.  If you fail to remove greasy stains, the adhesion result will be 20% weaker.

Then the surfaces must be properly dried.

If you use two-component adhesive, take a special container, which you will dispose of after use.

Follow the manufacturer's instructions until you get a mixture smooth in color and viscosity. The ready-to-use glue must be used in the next 10-60 minutes. The specific time is usually indicated on the tube or package.

Apply glue to both surfaces in a very thin layer and press them firmly against each other. Do not overdo it to avoid squeezing out the adhesive mass.

Remove excess glue with a dry cloth. Sometimes you need a cloth soaked in a solvent.

Fix the position until the adhesive has completely hardened (about 15 minutes).

Depending on the brand of glue and the ambient temperature, final curing occurs in 12-24 hours.
Useful Video: Gluing metal with JB Weld
Conclusion
As you see from this article, aluminum can be glued despite it is widely believed that it is impossible to reliably bond two aluminum parts without welding or fasteners.
Using special adhesives, aluminum can be bonded not only with the same aluminum but also with other materials. Products on the market perfectly connect aluminum to steel, polymeric materials, and even glass and stone. In most cases, the manufacturers have done everything for you, offering you a ready adhesive that is easy to apply and fast to cure. Your task is to determine the best option based on the product you need to repair. Following the instructions, you can achieve a great result in the bonding of this capricious metal.
---