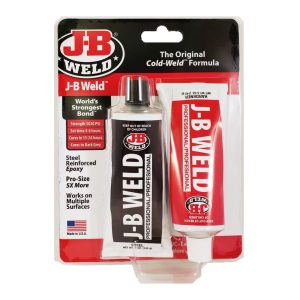 Cure Time – 15-24 Hours
For Metal, Plastic & PVC, Wood, Concrete, Ceramic & Tile, Fiberglass
Can Withstand 550°F/287°C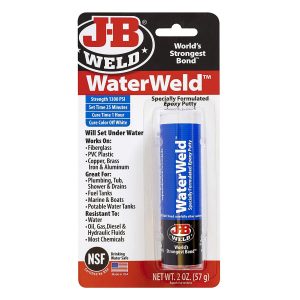 Can Set And Cure Underwater
Waterproof, Petroleum, Chemical And Acid Resistant Once Fully Cured
Cure Time – 1 Hour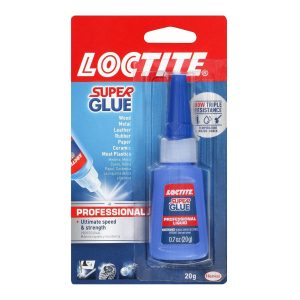 Maximum Bonding – 15-30 Sec
For Bonds With Leather, China, Wood, Rubber, Metal, Ceramic And Most Plastics
Waterproof, Solvent-Resistant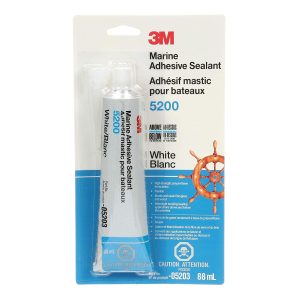 Cures Completely In 5-7 Days
Tough And Flexible Polyurethane Polymer Forms Strong Bonds
Won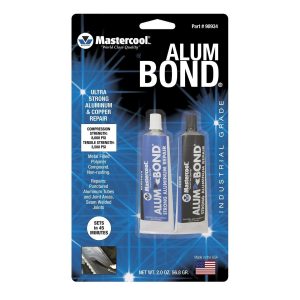 Maximum Line Pressure – 5 Hrs
For Repairing Condenser Coils, Tanks, Valves, Pumps, Castings, Radiators
Aluminum Filled Epoxy
---
Choose the Best Epoxy for Aluminum
Customer's Choice: the Best Rated Epoxy for Aluminum
481 users answered this survey. Please help us improve this review!

65.9% of users selected J-B Weld 8281, 9.56% selected J-B Weld 8277, 3.53% selected Loctite Super Glue, 5.61% selected 3M Sealant 5200 and 15.38% selected MasterCool 90934. Every month we analyze your answers and change our rating.
Aluminum is known as a very strong material that is capable of enduring high temperatures and immense pressures. However, it can sometimes break and become unusable.
Is there any chance to save the aluminum components and details from throwing out into the garbage bin? Sure, the answer is positive. With modern epoxies, the task becomes quite easy.
Though, the process of choosing the epoxy you need may seem rather challenging because there are many options on the market today. That is why you need to know what to take into account when searching for the best epoxy for aluminum. Of course, you have to opt for the products that have powerful adhesive qualities, quick time of setting and curing as well as durability, water-resistance, and ability to withstand both high and low temperatures if needed.
We have prepared a compilation of the 5 best epoxies that are available for different needs and a buyer's guide to help you make the right choice.
J-B Weld 8281 Professional Size Steel Reinforced Epoxy – the Most Efficient and Reliable Product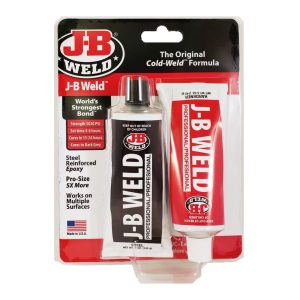 This is a two-part system that creates an immensely strong bond that can be compared by its durability to steel only. The tensile strength of this epoxy is 5020 PSI and it can bear temperatures of up to 550 degrees F (or 287 degrees C).
The epoxy is also water and high-pressure resistant. It can withstand different chemicals and acids as well as petroleum.
Use and Performance
The epoxy is widely used for household repairs, marine, automotive, and various craft fixing. It can also be applied to plumbing, agriculture and outdoor equipment, toys, deck and hull accessories, and motorcycles.
The use is very easy. Just mix some substance from the two tubes and then, apply the mixture smoothly over the surface of the detail you are repairing. Let it set for 4-6 hours with the overall time for curing of 15-24 hours. After that, you can tap, drill, sand down, and mold the surface as you like.
Pros
Pros
It is easy to mix and apply.
The product can be abraded, pierced, and drilled after it dries out.
The fixed part is very strong as a real metal weld.
It adds longevity to the mechanism that has been fixed.
The epoxy is value for money.
Cons
Cons
The product is tough to remove.
The look may seem rather unpleasant with that unattractive dark grey color.
What is important to know is that you can always store the leftovers of the product for further application. You do not need to mix much epoxy from each tube. It can fix the component you apply it to in the first attempt.
---
J-B Weld 8277 WaterWeld Epoxy – the Best Product for Use Underwater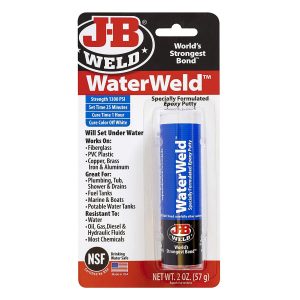 It is the water-resistant putty that is provided in a stick. The stick consists of two parts that should be kneaded together by hand. The product is unique by its quality to be used underwater.
Its tensile strength is 1300 PSI and it can bear extreme temperatures up to 290- 300 degrees F (or 148-149 degrees C).
When cured, it becomes resistant to different chemicals, petroleum, and hydraulic fluids. It takes the epoxy about 15-25 minutes to set and then, about an hour to cure.
Use and Performance
Since it is immensely water-resistant, the epoxy can be used for repairing fuel tanks, drains, potable water tanks, boats, pools, spas, tubs and showers, plumbing appliances, and other containers that can be affected by liquids. It is safe for potable water.
The product can fix automotive, ceramic, metal, fiberglass, plastic, composite, PVC, and other dry, wet, and underwater surfaces.
Since the epoxy is packed in sticks, just take out the amount you are supposed to use, mix it well with hands, and apply. Remember that it sets very fast so you need to clear out the leftovers as fast as possible. Then, you can sand down, mold, drill, or thread the surface as you need.
Pros
Pros
The product is ranked among the fastest setting ones.
It is perfect for use underwater.
You can store the leftovers of the product for the next use.
It is very strong, durable, reliable, and long-living.
The epoxy is very versatile.
Cons
Cons
When used once, the leftovers must be removed very fast – in some minutes, it will be impossible to do that.
The epoxy requires a very clean surface.
It is rather difficult to remove the product from the hands.
Remember to store the rest of the epoxy closely packed. You will be able to use it next time without any loss in quality
---
Loctite Liquid Professional Super Glue – the Leader of fast Setting and Curing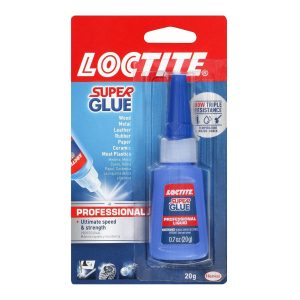 The product is amazingly durable so it is the best one for repairs in severe conditions. The package contains a pin-point nozzle for better applying and no waste at all. The cap of the nozzle is screw-on which is quite helpful for multiply uses.
It also prevents the glue from hardening and drying out within the tube. The glue is resistant to moisture and temperature changes. It is transparent when dries out so the repairs are invisible. The adhesive qualities are fascinating and the product can also withstand most chemicals.
Use and Performance
The glue's formula allows for applying it to cork, chipboard, leather, ceramic, hard plastics (Plexiglas, polystyrene, polycarbon, and PVC), wood, paper, metal, rubber, and fabric, apart from aluminum components. The product is used for fixing costume jewelry, toys, figurines, wiper blades, cameras, O-rings, metal car parts, rubber seals, and other appliances.
So, to use the glue correctly, install the pinpoint nozzle on the bottle and squeeze out just a bit of the substance. After the use, apply a self-piercing screw-on cap to preserve the rest of the glue. The setting will last no more than 15-30 seconds.
Pros
Pros
The glue is very fast-acting and setting due to some patented additives.
It is very convenient to utilize owing to its original design.
The product is very versatile.
The glue demonstrates the long-work time.
It is excellently resistant to low and high temperatures.
Cons
Cons
The glue dries out very fast, so it is very hard to remove its leftovers from all the surfaces where they are not needed.
The tip of the nozzle may often get clogged after use despite the innovative cap.
It is somewhat rather thin and difficult to spread evenly and it smells strong.
Remember to keep the air out of the bottle to let the glue always stay fresh. Close the bottle with the cap immediately after use. You will be able to use it again only if tightly sealed and kept upright for storage.
---
3M Marine Adhesive Sealant 5200 – Best for Boats and All Types of Marine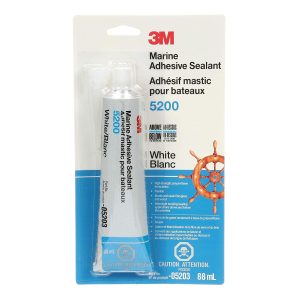 This powerful adhesive sealant is made of tough and flexible polyurethane material. It does not need any mixing and sets within 48 hours while the curing process may take about 5-7 days. It can withstand the stress from vibration and a dynamic force.
The epoxy also resists strong winds, salt water, temperature extremes, and weather changes. The substance is quite flexible as well so it applies to any structural movement. The product effectively absorbs the stress brought by vibration, shrinking, shock, and swelling.
Use and Performance
Since the epoxy is a great solution for marine conditions, it is ideal for attaching interior parts, sealing, and bonding in boats, yachts, RVs, and other floating craft and water sports equipment. Apart from aluminum, it can be used on fiberglass, metal, wood, and other materials to repair decks and hulls, portholes and deck fittings, motors, seams related to the waterline, fiberglass transoms, the gaps between different components and details of a sea-craft, and many other floating appliances, facilities, and equipment. You can also use a manual or pneumatic applicator to dispense the sealant. The product can be utilized in challenging transportation, construction, and industrial applications on the land and sea.
Pros
Pros
The product is extremely resistant to water.
It is quite durable and flexible.
The epoxy is easy to apply and then maintain.
The substance provides amazing temperature resistance and longevity.
The long term of manufacturing standards raises the reliability of the product.
Cons
Cons
The time for setting and curing is rather prolonged.
The epoxy requires a smooth and cleaned surface.
It is pretty expensive.
Remember about the long period for curing because, if you are short of time, for some reason, the product does not fit your needs.
---
3MASTERCOOL 90934 Alum Bond – The Most Effective Sealant for Aluminum Ever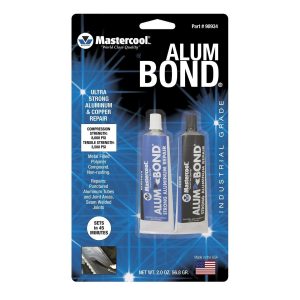 This product is a two-component sealant. It contains a high amount of aluminum particles that helps to use the epoxy efficiently to connect the parts and components. Its tensile strength is 3500 PSI and it is sold in small tubes of about 2-oz weight.
Its time for the setting is 1 hour while to get it cured completely, it will take you about 5 hours.
The epoxy is manufactured on the base of thoughtfully combined aluminum components, dry-out agents, and high-quality additives meant to ensure maximum durability and loading capacity. The adhesion is maximal here and the product is quite endurable against severe weather and climate conditions, temperature changes, compression, and line pressure.
Performance and Use
The epoxy is specially manufactured for use in such parts of equipment and facilities as radiators or condenser coils, repairing valves or pumps where there is a need to protect the surface against rust with the help of aluminum finish.
The methods of applying the product do not differ much from those appropriate for other epoxies of such kind.
Pros
Pros
The epoxy is very durable, powerful, and long-living.
The substance is simple in its utilization due to the original design of the package.
It is quite fast-drying and specifically meant for utilizing in aluminum.
The product is great for protecting the items and facilities against corrosion.
The surface where the epoxy was applied can be abraded, pierced, and drilled after the complete drying out.
Cons
Cons
The product is pretty expensive.
It can be rather toxic while mixed with other smelling chemical substances.
The epoxy is not as strong as solid steel.
Be attentive while applying the product. Its fumes may be rather toxic. Special attention should be paid to the methods of using the epoxy. Never combine the substance with any other materials you do not know much about.
---
Buyer's Guide
With a great choice of epoxy products on the market, it is sometimes very difficult to pick out the one that is the most suitable for your needs. The only thing to remember here is that there is not any cure-all epoxy that can help in all situations.
That is why we have collected some factors that you have to take into consideration while choosing the right epoxy for your purposes. Here they are.
Time for Drying
As a rule, this factor does not influence the quality of repairs if the issue needs to be fixed. It does not matter how much time it will take to do it if you need a satisfactory result.
However, if you are a professional who wants to get your job done quickly, receive your payment, and proceed with other tasks, the time for drying should be considered. The same goes for the situations when you are short of time for one reason or another. As for household amateurs, the long curing can just seem inconvenient.
Tensile Strength
This factor is more important for professionals who work in harsh conditions. You can find the indices in pounds per square inch (PSI) on the package of any epoxy. You can also compare them here in the chart at the beginning of the article.
Resistance to Extreme Temperatures
You need to know the conditions in which your repaired surface is supposed to function. Consider the highest and lowest temperatures possible. Sometimes, that can become a critical indicator.
Overall Look and Ability to Be Painted
It is really important because not all the epoxies allow for painting. That should be considered when you are doing some cosmetic repairs at home, for example, while fixing a piece of furniture. If your favorite thing turns into an ugly piece of rubbish after fixing, the sealant is harmful and useless. So check the packaging to see what color the epoxy provides after curing.
Resistance to Water
When you plan to do some fixing on the surface that will be exposed to water and can be damaged by it, check a sealant for water resistance. That will extend the lifespan of your thing made of aluminum. Moreover, you will not consider the product you have bought rather harmful than helpful.
FAQs
How well will epoxy stick to aluminum?
Aluminum is a metal so it is nonporous. It means that it will be difficult to prepare the surface for painting after the repair with epoxy. Unlike other materials, for example, vinyl or wood, you cannot abrade aluminum surfaces with sandpaper. So, think about the good sticking of your epoxy and further painting before using the sealant on the surface.
Which epoxy for aluminum provides the strongest bond?
Some options provide great results. One of them is Loctite Weld and the other meant for gluing metals is Loctite Epoxy with a strong bonding compound. The latter performs great for other metals, such as brass, copper, steel, pewter, and iron.
Which adhesives will stick instantly and reliably to aluminum?
Among the instant adhesives that work well for aluminum and other metals, it is worth mentioning cyanoacrylate. Such sealants as super glue and other types of glues also work well. You need to look for the strength of the epoxy and its curing time on the package.
How can I prepare the aluminum surface for epoxy?
Use the 80-grit aluminum oxide paper to abrade the surface before applying the sealant. Mind that aluminum is nonporous so sandpaper may not always be useful.  Ensure that the surface is solid, so you need to remove all the blistering, old coating, flaking, and chalking before the application.
Do I need to prime the aluminum before painting?
Remember that not all epoxies are good for painting. However, if you have applied one that allows for it, use a self-etching primer. This formula includes the chemicals that help micro-etch the surface you are going to paint.
Is Gorilla epoxy good for aluminum?
Yes, Gorilla epoxy is excellent for aluminum. It's incredibly strong and has a gap-filling formula that can handle metal-to-metal applications without any extra steps like sanding or priming. Plus, this epoxy dries quickly and forms a durable bond in just minutes! So not only will you get the job done fast, but it'll stay secure for years to come. Give it a try next time you have an aluminum repair—you won't be disappointed!
Does epoxy putty work on aluminum?
Yes, epoxy putty is a great way to repair aluminum surfaces. The two-part putty sticks to aluminum and other metals, forming a strong bond that won't break or crack. You can use it to fill in dents or patch up holes in any metal surface. Plus, the putty hardens quickly so you don't have to wait around for a long time before you can start using your aluminum object again. Epoxy putty is easy to apply and sand down, making it perfect for fixing small imperfections on aluminum objects of all kinds. So go ahead and give it a try – epoxy putty will help get your metal objects looking good as new!
Does marine epoxy stick to aluminum?
Yes, marine epoxy is designed to adhere to aluminum. It forms a strong bond that can withstand extreme weather conditions and harsh environments. However, it's important to make sure the surface of the aluminum is properly prepared for the epoxy application. Before applying, you should clean the aluminum with a solvent or degreaser, then lightly sand or chemically etch it. This will ensure the best possible adhesion between the epoxy and aluminum. Additionally, make sure you select an appropriate type of marine epoxy for your project – some are better suited for specific applications than others. With proper preparation and selection of epoxy, you can trust your repair job will last for years to come.
What can you put on aluminum to keep it from corroding?
To keep aluminum from corroding, you should regularly clean it and apply a protective coating. You can apply a variety of protective coatings, such as paint, wax, varnish, or oils. Anodizing is another popular option that creates an oxide layer on the surface of the aluminum to protect it from corrosion. Additionally, adding a sealant like polyurethane can further improve protection against oxidation by sealing off any small cracks in the material. Finally, applying anti-corrosion chemicals like phosphoric acid solution or zinc chromate primer will help keep aluminum surfaces safe from corrosion for longer periods of time.
Which coating is best for aluminum?
That depends on what the aluminum is being used for. The most common type of coating for aluminum is anodizing, which provides a durable finish and helps protect it from corrosion. Another option is powder coating, which can be customized with various colors and textures and also provides protection. There are other options such as chrome plating or galvanizing that are best suited to certain applications. Ultimately, your choice will depend on the intended use of the aluminum and any specific requirements you may have.
For help deciding which coating is best for your application, contact a professional who specializes in metal coatings or consult with an experienced engineer who has experience working with aluminum projects. They should be able to provide advice on what would work best for you based on your needs.
How do you bond aluminum without welding?
If you're looking for an alternative to welding aluminum, one of your best options is adhesive bonding. This process involves using a specialized epoxy designed specifically for bonding metals together. The first step is to clean and abrade the surfaces that will be bonded together, ensuring they are free from any rust or dirt. Then, apply a thin layer of the metal-bonding adhesive between the two pieces you're joining and hold them in place with clamps until the glue has set. Adhesive bonding offers more flexibility than welding because it allows you to bond two pieces of different thicknesses together without creating uneven areas on either side. It's also easier to use than welding since all you need is the special adhesive, some rags and clamps. Plus, it's a much more cost-effective solution than welding!
How do you seal aluminum together with epoxy?
The process of sealing aluminum together with epoxy is relatively straightforward. First, you should prepare the surface by cleaning off any dirt or grease with a suitable solvent and then roughen the area to be joined with sandpaper. Next, mix up an adequate amount of epoxy according to the manufacturer's instructions. Apply a generous amount of the mixed adhesive over both parts that will be joined and let it sit for several minutes before clamping them together firmly. Make sure to check that everything is lined up properly before allowing the epoxy to set completely. Once fully cured, your repair should hold tight and provide a strong seal between two pieces of aluminum!
Useful Video: The Ultimate Epoxy Competition–Which Epoxy is the Best?
Conclusion
You may be astonished after reading all these considerations because it looks strange that a simple tube of glue can have so many instructions and research behind it. However, if you get more informed, your choice will be more thoughtful. You will not waste your time and money on something completely useless for your needs.
We have compiled this guide to help you with all those options you can come across on the market today. We will be happy if our thoughts will be useful and you will opt for the product that you really need and utilize in your project with the most possible efficiency.
---