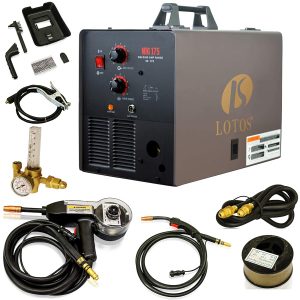 The LOTOS MIG175 is one of the most versatile welders. It is able to weld aluminum with the spool gun. Its transformer technology has been proven to be reliable and durable. MIG175 can easily connected to your existing 220V wall outlet and can be setup quickly within 10 minutes.
Lotos MIG175 User Manual
Having problem? Download Lotos MIG175 instructions.


---
Pros & Cons of Lotos MIG175
Pros
Operates on 200-240V, dual frequency 50/60Hz
Suitable for: stainless steel, mild steel, and aluminum
Can welder 3/8 Inch or thinner aluminum plate
High-speed MIG spool gun for aluminum welding
Cons
May not be of high quality
---
Video Guide: LOTOS MIG175 175 Amp MIG Welder Quick Setup Guide
---