The Hobart Handler 140 is a powerful and reliable welding machine. It's the perfect choice for anyone looking to complete basic welding projects or just get started in the field. With its easy-to-use setup, adjustable settings, and durable construction, it has become one of the most popular welders for DIY enthusiasts and professionals alike. In this review, we'll take a closer look at the features and benefits of the Hobart Handler 140 to help you decide if it's the right welding machine for you.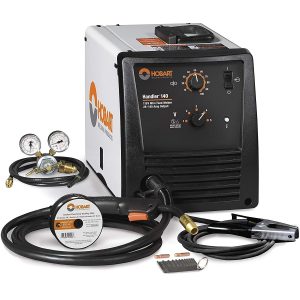 Introducing the Hobart Handler 140 – your go-to welding partner for tackling any project! Versatile, reliable and easy to use, this machine puts you in control with its five voltage control selector that helps keep a stable arc for the perfect weld at whatever thickness you choose.
With the ability to weld up to 1/4″ mild steel and no need for special hookups or transformers, this machine will be at your service whenever you need it! From Stainless Steel and Aluminum to MIG(GMAW) and Flux Cored(FCAW), the adjustable wire feed speed range of 40-700 IPM ensures you won't run out of options, while its 25-140 A welding amperage range is sure to make even complicated tasks a breeze. Weighing only 57 lbs., and operating off 115V standard household current it's sure to be your go-to welding machine for all kinds of jobs. Get yours today – with the Hobart Handler 140, no job is too big or small!
Hobart Handler 140 User Manual
Having problem? Download Hobart Handler 140 instructions.
---
Pros & Cons of Hobart Handler 140
---
Buyer's Guide
Why Hobart?
Hobart Handler 140 is one of the most popular welding machines on the market today. It's easy to see why: it's a reliable, versatile machine that gets the job done, no matter what your welding project entails.
The Handler 140 offers a range of versatile functions, including MIG welding and flux-core arc welding. The machine also comes with a variety of settings that allow you to tailor the experience to your project, whether it's using thicker or thinner materials.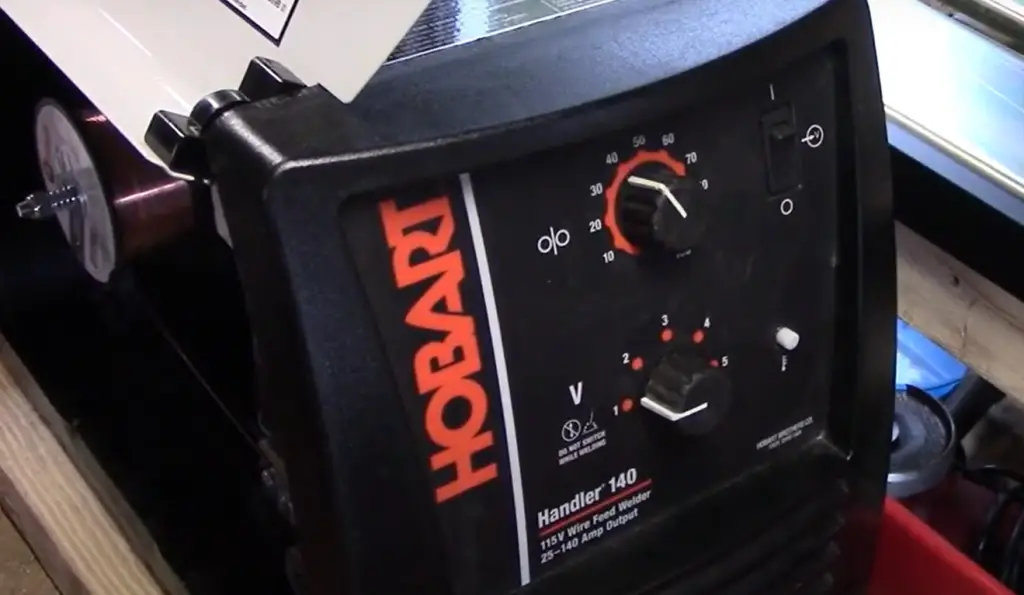 And if you need to make repairs in hard-to-reach areas, the Handler 140's portability makes it easy to move around.[2]
For Whom Hobart Handler 140 Designed For?
The Hobart Handler 140 is designed for hobbyists, DIYers, and professional welders alike. This versatile MIG welder can handle a variety of materials, from aluminum to steel and stainless steel. Whether you're looking for an affordable starter machine or a reliable workhorse for your shop, the Handler 140 is a great choice.[2]
Hobart Handler 140 specs at a glance
The Hobart Handler 140 is a MIG (Metal Inert Gas) welder that offers an unbeatable combination of affordable pricing and portability. It's ideal for beginner welders, hobbyists, and home use. Here are the specs at a glance:
Input voltage: 115V
Rated output amperage range: 25-140A
Input power rating: 12.5A
Duty cycle: 20% at 130 Amps, 100% at 90 Amps
Welding processes: MIG (GMAW), flux cored (FCAW) welding and gasless experience with the self-shielding flux core welding wire
Weight: 57 lbs[2]
Design and Portability
The Hobart Handler 140 is a conveniently-sized and lightweight welder that weighs only 57 pounds. It comes with an 8 inch handle, allowing for easy portability from one job site to the next. The compact size also makes it great for working in tight spaces or on projects with limited workspace. This machine has an attractive exterior design, with an orange and black finish that looks sleek and modern.
The interior of the machine is just as impressive, featuring a drive system with built-in overload protection for added safety. It also has a user-friendly control panel with easy-to-read settings, so you can quickly adjust the welding parameters and get your project underway.
Performance
The Hobart Handler 140 is a great choice for a variety of projects. With its 120-volt power capability, it's powerful enough to weld 1/4″ steel in a single pass, and lightweight enough to be used in tight spaces. The built-in 7-output voltage settings offer precise control over your welding parameters, making it easy to fine-tune your welds while the duty cycle provides consistent results. The arc force control also helps keep you from creating too deep of an arc in thicker materials, protecting you from burn through. All this adds up to a welder that can handle just about any job you throw at it.
MIG welder unboxing
Unboxing your Hobart Handler 140 MIG welder can be an exciting experience! Before you get started, make sure that all the components are there. The following is what should come with your package:
Power input cord
Gas regulator and hose
MIG gun and cable assembly
Contact tips
Material thickness gauge
Operator's manual and warranty card
Now that you've unpacked all the components, it is time to set up your MIG welder. Make sure that you have a good working area with plenty of ventilation, as welding can be an activity that produces sparks and heat. Place your work-piece on top of a flat and stable surface, such as a table or workbench.
Connect the gas regulator to your shielding gas supply and secure it with a wrench. Then connect the MIG gun's power cable to the welding machine. Make sure that all connections are tight and secure before turning on the welder.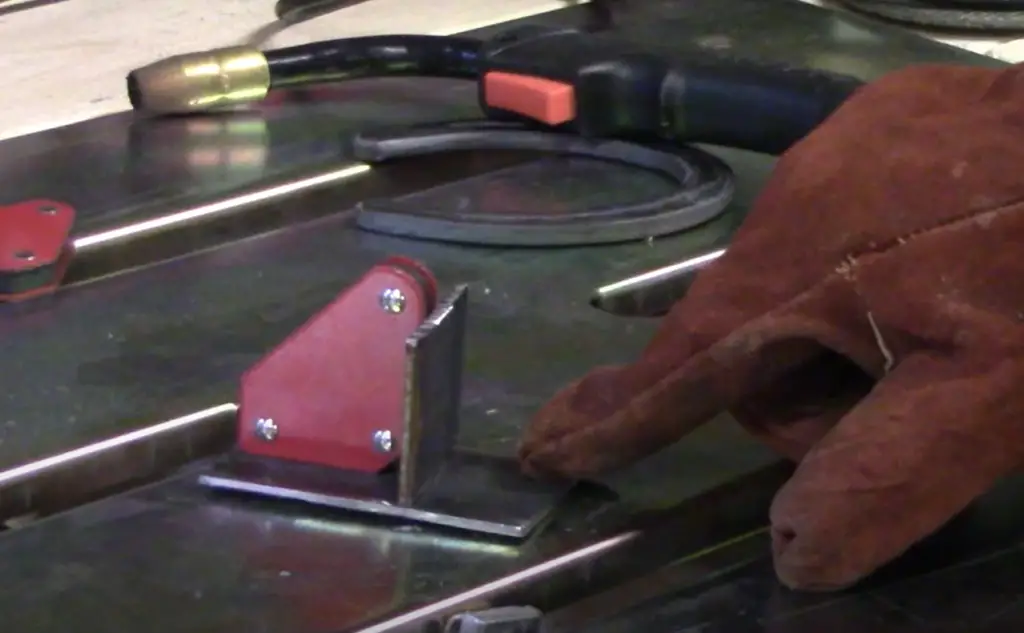 Next, attach the contact tips and material thickness gauge to the MIG gun. Place your wires in the wire feeder. Adjust the gas flow rate according to the type of metal you will be welding. Finally, adjust your amperage and voltage settings for your desired output.[2]
Full-size MIG platform
The Hobart Handler 140 is an ideal choice for those just getting into welding, as well as seasoned professionals. It offers a full-size MIG platform with a 120-volt power source, allowing you to easily weld on thicker materials such as steel and stainless steel. The MIG setup includes an adjustable drive system that reduces wire feeding problems, which makes it a great choice for those who are just getting into welding. The Hobart Handler 140 also features infinite voltage control, allowing you to adjust the heat settings and create perfect welds every time.
Making spatter
The Hobart Handler 140 is an ideal fit for welding hobbyists and enthusiasts alike, as it offers a reliable performance for both professional and DIY projects. With this machine, you can be sure to make spatter-free welds that are clean, precise, and have superior penetration. Here's how:
Make sure to set the machine at the correct parameters for your project – amps, wire speed, and voltage. This will provide consistency in your welding results and help minimize spatter.
Increase arc length for a more precise weld bead with less spatter. A longer arc length can also help you maintain a higher heat input and better control of the fill metal.
Utilize a drag technique when welding with the Hobart Handler 140. This will allow you to keep a consistent arc length and steady travel speed, which helps prevent spatter build up.
Use shielding gas for more detailed welds that contain less spatter. Shielding gas helps protect the weld from atmospheric contamination and keeps spatter from forming on the molten metal.
Reversible drive rolls
The Hobart Handler 140 comes with two reversible drive rolls that are designed for wire welding. This feature makes it easier to get the right angle and distance between welding materials, resulting in better welds. With its infinite amperage control, you can adjust the current to match your desired level of penetration and bead size. Additionally, these drive rolls have adjustable pressure and come with two-groove V-knurled drive rolls for improved wire feeding.[2]
Hinged door
The Handler 140 comes with a hinged door for easy access to the interior of the machine. This feature makes it easier to clean and maintain the welding machine, as well as allowing you to quickly change out consumables such as contact tips and nozzles without having to open up the entire unit. The door is safely secured with a latch, so you don't have to worry about any sparks or other hazards preventing you from accessing the inner components of the machine. It also keeps everything secure while it's not in use.[2]
Power output
The Hobart Handler 140 is a gas-powered device with five output settings, reaching up to 140 amps of maximum power. Its high duty cycle allows it to weld heavier materials than other MIG welders in its class. The quick-select drive roll ensures that you have the optimum performance from your welding wire size, and an infinite voltage control allows you to fine-tune the power output as needed. The large drive rolls are designed to reduce wire tangling and minimize feed problems, while a spool gun ready design makes it easy to set up and use with your own spool gun. With its full range of features, the Hobart Handler 140 is one of the most reliable and powerful MIG welders on the market today.[1]
Weight and Transportation
The Hobart Handler 140 is a lightweight welding machine that weighs only 78 lbs. This makes it easy to transport and get set up on the job site quickly. It also has an ergonomic design with comfortable handles that make carrying it much easier. The handle can be adjusted to three different heights, so you can easily carry it at whatever angle is best for you. The Hobart Handler 140 is also equipped with a wheeled cart, which makes transporting it around much simpler.[1]
Wire Speed and Voltage Settings
The Hobart Handler 140 has adjustable wire speed and voltage settings, allowing you to customize your welding to the job at hand. It's important to know that this model is designed for MIG (metal inert gas) welding and flux-cored welding using 0.030" diameter solid wire or 0.035″ self-shielding flux-cored wire.
This allows you to adjust your welding parameters to fit a variety of jobs and materials. The flexible settings make this model ideal for repair and maintenance projects, as well as light fabrication work.
When working on thicker materials and larger jobs, you should increase the wire speed and voltage settings accordingly. If you're unsure of how to adjust the settings for optimal welds, it's best to consult your user manual or speak with a Hobart representative for assistance.[1]
System setup
The Hobart Handler 140 is relatively easy to set up. It has a six-position voltage selector switch, so you can choose the correct voltage for your application. The machine also has a four-position output control selector that allows you to adjust welding current or wire feed speed, depending on the task. With its smooth and balanced arc performance, the Hobart Handler 140 is great for all types of welding projects.[1]
Usability
The Hobart Handler 140 is a versatile welder that can be used for a variety of projects. It has an adjustable spool gun adaptor, which makes it easy to use different sizes and types of wire. The power settings are easy to adjust and the machine provides a stable arc even with long welds. It also has a built-in gas solenoid valve for convenience.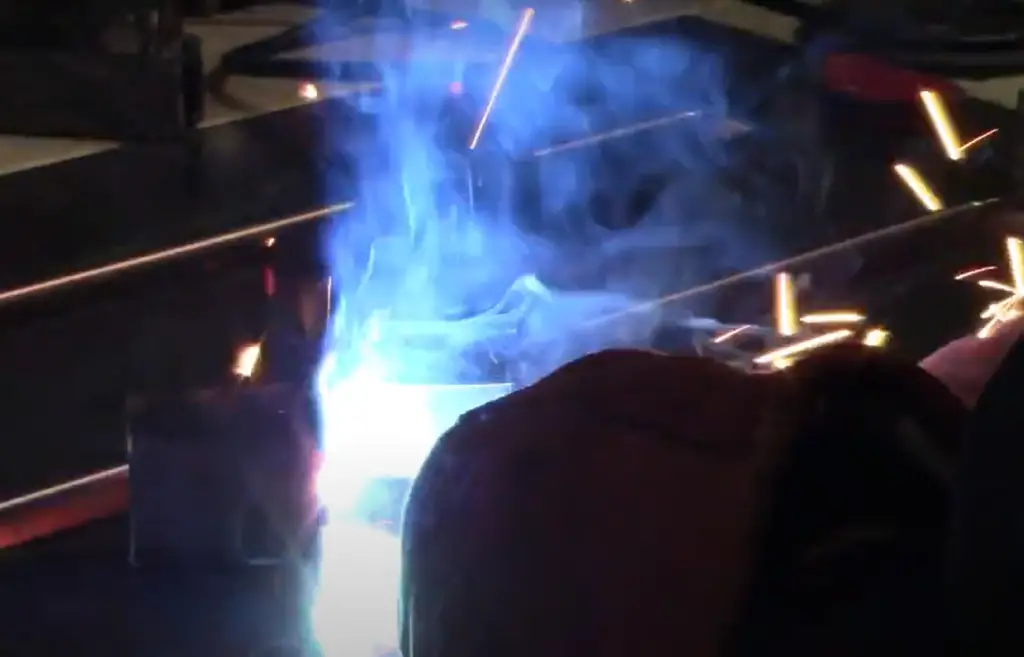 The overall design is user-friendly and the welder can be operated with ease. Additionally, the HD feed roll system ensures that the welding wire is fed consistently and accurately, resulting in a more reliable weld.[1]
Price
The price of the Hobart Handler 140 is quite reasonable. It costs around $500-$750, depending on where you purchase it from. That being said, this is an investment that could last many years with proper maintenance and use. It's well worth the money for anyone who needs a reliable welding machine. Furthermore, there are several accessories available to help you get the most out of your welding machine, such as extension cords, welding helmets and safety glasses. So if you're looking for a welder to complete your projects at home without breaking the bank, the Hobart Handler 140 is an excellent choice!
Warranty Options
The Hobart Handler 140 is backed by a 5/3-5/3/1 warranty. The 5/3-5/3/1 warranty covers the machine for five years on labor, three years on parts, and one year on wear parts. This generous warranty ensures that your investment in the Hobart Handler 140 will be protected in the event of any problems. The warranty also includes a limited lifetime guarantee on the drive system, and all of the parts are covered against defects in materials and workmanship. If you need assistance with your Hobart Handler 140, you can also seek help from their service network or take advantage of one of their optional extended warranty programs.
Safety features
Safety is of utmost importance when it comes to welding. The Hobart Handler 140 is equipped with several safety features that make it a great choice for both novice and experienced welders alike. It has overload protection, an automatic shut-off feature, and a heavy duty power cord that ensures the machine won't be damaged if an overload occurs. It also has a fan-cooled exhaust system to keep the work environment safe from noxious fumes and smoke. The machine is also built with high-quality parts for maximum durability and protection against accidental shocks.
Who Should Consider Getting a Hobart Handler 140 Welder?
The Hobart Handler 140 is a great tool for a wide variety of welding projects. It's ideal for anyone who needs to weld mild steel, stainless steel, aluminum and cast iron. If you're looking for an affordable yet reliable welder that can handle most of your at-home welding jobs, the Hobart Handler 140 is a great option.
It's also the perfect welder for hobbyists and novice welders who want something easy to use. The Hobart Handler 140 is extremely user-friendly and its simple design makes welding a breeze. It also offers a wide variety of amperage settings, so you can easily adjust it to your needs.
Where to buy the Hobart Handler 140?
The Hobart Handler 140 is available for purchase from many online retailers and welding supply stores. You can also find them at local hardware stores or even in specialty welding shops.
Additionally, many websites offer free shipping when you make a purchase of over a certain amount, so be sure to take advantage of this offer when you can. No matter where you decide to buy your Hobart Handler 140, make sure it comes with a warranty and is certified safe for welding jobs.
[2]
What Happened to the Hobart Handler 140?
The Hobart Handler 140 was a popular welding machine that quickly gained recognition as an affordable and reliable way to weld. It had the ability to produce clean, consistent welds in steel, stainless steel, and aluminum up to 1/4 inch thick. The original model was discontinued in 2016 when the new 200 Series replaced it.[1]
What should you know before buying the Hobart Handler 140?
Before you invest in the Hobart Handler 140, there are a few things you should consider. The first thing to keep in mind is that this is an industrial-grade welding machine, so it's not something you can buy lightly.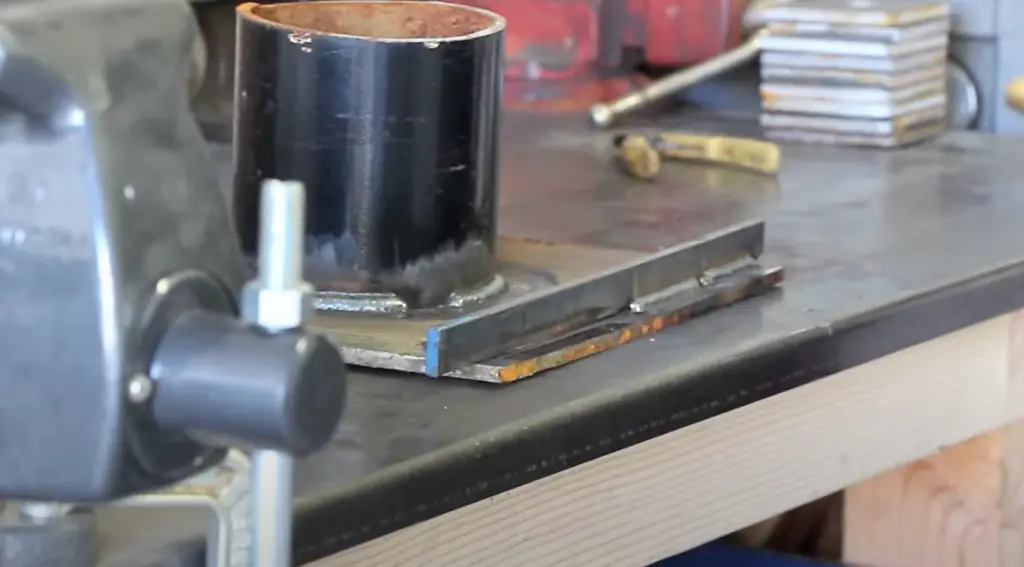 You need to make sure that your project requires an MIG welder of this caliber and if so, that you have the skills and experience to safely use it. Additionally, you should measure your workspace to make sure there's enough room for a large-size welding machine such as this one.[2]
---
FAQ
How thick steel can you weld with a Hobart 140?
The Hobart Handler 140 can weld steel up to 3/16 inch thick. It is also capable of welding stainless steel and mild steel with a maximum output of 140 amps. It is best suited for home projects, farm repairs, and light industrial use. With the right rods, it can even be used for aluminum welding as well.
Where is the Hobart Handler 140 made?
The Hobart Handler 140 is manufactured in Troy, Ohio. It is designed and engineered to meet the needs of both home hobbyists and light industrial applications. The Hobart name has been trusted for over 100 years, so you can be sure that this welder will provide you with quality performance for years to come.
Are Hobart welders any good?
Hobart welders are known for their exceptional quality and performance. The Hobart Handler 140 is no exception. It has a heavy-duty construction, making it ideal for light industrial use as well as home hobby projects. It also features an easy to use design with simple controls that allow you to quickly set up the machine and start welding without any difficulty. The 140 amp output ensures that you will have the power to get the job done. With the right rods, you can weld steel up to 3/16 inch thick and even aluminum with ease.
Can Hobart Handler 140 weld aluminum?
Yes, the Hobart Handler 140 can weld aluminum with the right rods. It also has a 140 amp output which is ideal for welding both stainless steel and mild steel up to 3/16 inch thick. With its durable design and easy setup, you can be sure that the Hobart Handler 140 will provide you with reliable performance for your projects.
What's better, Hobart or Lincoln?
Both Hobart and Lincoln offer high-quality welders that can be used for a variety of applications. Ultimately, it depends on your specific needs. The Hobart Handler 140 is ideal for home hobby projects, farm repairs, and light industrial use with its 140 amp output and easy to use design. Lincoln welders are built to last and are great for more commercial and industrial uses. Both brands offer reliable performance, so you can't go wrong with either one.
Video Guide: Hobart Handler 140 Review & Welding
Conclusion
After reading the above review, you should have a good understanding of what the Hobart Handler 140 has to offer. This machine is ideal for those looking for an easy-to-use, reliable and cost-effective welding solution. It packs a lot of power in its small frame, allowing you to weld up to 1/4 inch thick steel. It also comes with a number of useful accessories, allowing you to customize your experience to best suit your needs. And finally, its durable construction and affordable price point make it an ideal choice for anyone looking for an all-in-one welding solution. Whether you're just starting out or an experienced welder, the Hobart Handler 140 has a lot to offer.
Thank you for reading our review of the Hobart Handler 140 – we hope it was helpful in your search for the perfect welding machine! If you have any further questions, please don't hesitate to reach
---
References:
https://weldingpros.net/hobart-ironman-230-review/
https://fixitmanblog.com/hobart-ironman-230-reviews/