Advanced Mixology Moscow Mule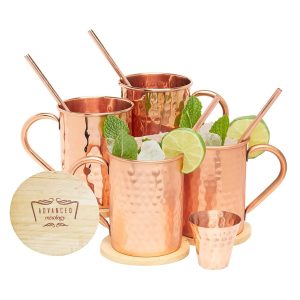 Handcrafted Pure Copper
Very Fine Polish For Extra Luster
Thick Walls And Gracefully Shaped Handles
Kamojo Moscow Mule Copper Mugs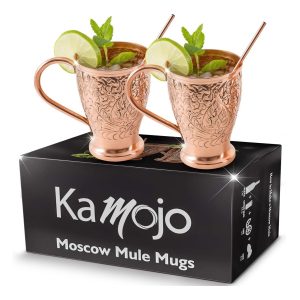 100% Pure Food Safe Copper
Protective Coating To Preserve The Brilliant Shine
No Nickel, No Tin, And No Stainless Steel
Krown Kitchen Hammered Moscow Mule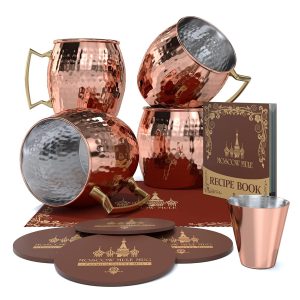 Ergonomic Handle
Stainless Steel With A Copper Plated Exterior & Brass Handle
Double Wall Construction Keep Drinks Ice Cold
Sertodo Copper CMM-18-4 Moscow Mule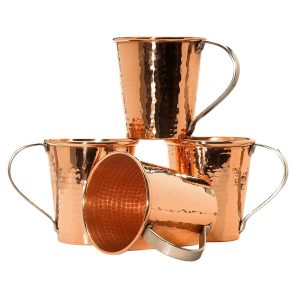 Handcrafted Pure Copper
No Lacquer. No Lining. Hammer Polish
Antimicrobial, Antibacterial, Antifungal Properties
Pure Copper 100% Copper Mug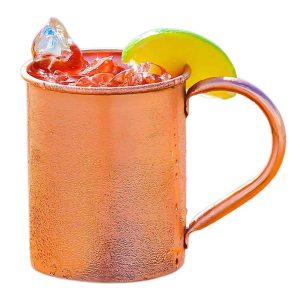 No Nickel, Tin, Or Steel
Food-Safe Lacquer To Help Keep Mugs Looking Amazing
Frosts Up In Seconds. The Handle Is Welded
---
Choose the Best Copper Mug for Moscow Mules
Customer's Choice: the Best Rated Copper Mugs for Moscow Mules
12 users answered this survey. Please help us improve this review!

41.67% of users selected Advanced Mixology Moscow Mule, 16.67% selected Kamojo Moscow Mule Copper Mugs, 16.67% selected Krown Kitchen Hammered Moscow Mule, 0% selected Sertodo Copper CMM-18-4 Moscow Mule and 25% selected Pure Copper 100% Copper Mug. Every month we analyze your answers and change our rating.
---
The Moscow Mule is a popular classic cocktail made with vodka, ginger beer, and lime juice. Another important component of the drink is a good copper mug. Copper absorbs the temperature of the beverage, making the Moscow Mules cool on hot days.
Moscow Mule cocktails in copper mugs: a tradition or necessity? 
The Moscow Mule cocktail has mostly been served in a copper mug since the 1940s. While the copper adds a festive touch to the cocktail, the copper mug tradition is more than just for show. Copper mugs actually enhance the drinking experience by monitoring the temperature of the liquid and enhancing the flavor.
Solid copper mugs are perfect for holding your beverage cool. The copper walls cool off as soon as the iced cocktail fills the mug. Even the rim cools, providing a cool feeling to lips with each taste. The copper often keeps the heat from your hands from warming the mug. Instead, the mug's handle shields the hand from the mug's coldness.
According to some, copper enhances the fizziness of ginger beer. More specifically, since copper is one of the most conductive components, it absorbs the chilled temperature of your cocktail. When you put ice in the Moscow mule mug, it instantly chills and leaves the drink frosted for much longer than a normal bottle.
Although conventional Moscow Mule mugs are made of 100% copper and are usually rounded with a handle, several brands have revamped their takes on the Moscow Mule mug with modern finishes and unusual designs that make a pleasant addition to any bar cart. Try making a cocktail at home after purchasing a package of whatever mugs fit your style. With the right copper gear, you'll sound like a pro.
The following guide aims to deliver the best copper mugs for the Moscow Mule cocktail. Check the comparison table and buying guide to invest wisely. 
Advanced Mixology Moscow Mule Copper Mugs – the best for the classic design!
Those mule mugs are designed to look like the initial mugs in terms of color and form. A gracefully formed welded handle and rounded lip have the optimum grasp and ease of consumption. Advanced Mixology believes in its products by including a money-back guarantee.
The walls continue to make the drink warmer over a prolonged period of time. The handles have a sleek design that is both easy to hold and appealing to the eye. This isn't a mug that was actually stamped out by a device. The handles are welded rather than riveted, making washing simpler.
Your handles will remain in place, and leakage will be non-existent. The mugs are tarnish-resistant and have an outer lacquer that can be quickly rubbed away for a more traditional or antique look. The kit is beautifully packaged and includes 4 coasters to hold your tabletops and other surfaces clean and dry.
Everything from the color of the copper to the size of the cup seems to have been carefully considered, and you might easily be misled into believing that this package of mugs cost a lot more than it did.
Pros
Pros
The handle shape is slick;
Food-safe copper;
Lifetime warranty;
Tarnish-resistant;
Includes wooden coasters;
Nice classic design;
Cons
Cons
The bottoms are not even;
Rough surface;
The walls of the mugs are thin;
With these copper mugs, you may dress up your cocktail and other cold beverages. These cups are made of heavy copper, which helps to hold the drink cool and tastes better. It elevates even the most basic beverages to a higher level of sophistication. A nice gift set.
---
Kamojo Moscow Mule Copper Mugs – the best for the embossed style!
This lovely two-piece kit is handmade and engraved by skilled artisans. One mug requires 8 days to make and 2 days to emboss. The Kamojo handmade mug with a hammer and a tiny cup that you would like to sip from.
The Kamojo mugs are made of pure copper, with no other metals mixed in, such as tint, steel, or nickel, to give you the authentic flavor of a cocktail. Furthermore, the mug has a waterproof coating to keep its gleaming and bright appearance.
The mugs carry 16 ounces and are constructed of premium pure copper. They have no nickel or steel linings, resulting in superior health and drink content.
Pros
Pros
Embossed handcrafted design;
One-year guarantee;
100% copper;
Includes a 35-page eBook and copper straws;
Protective coating;
Shiny;
Cons
Cons
The inside of the mugs can be scratched;
The package is flimsy;
Because of its beautiful and comfortable appearance, you would be happy to offer it as a wedding or housewarming present to your loved ones.
---
Krown Kitchen Hammered Moscow Mule Copper Mug Set – the best for durability!
These Krown Kitchen mugs can entice you with their flawless design, hammered texture, and the handles with a genuine brass finish. The mugs' stainless steel lining is both durable and clean. When you use these mugs, your beverages can remain cold.
The Krown Kitchen mug series has an enhanced handle that allows you to keep a tight grip. The whole collection includes four mugs and four coasters. The container itself is constructed of stainless steel, which not only lasts longer but also has a luxurious quality to it. Steel is needed since any mug made entirely of copper would rust with time.
If you are picky about handles, this mug kit is ideal for you. Since the handles are adjustable to perfectly match any hand size, you can hold this mug with all your fingers comfortably.
For extra protection, the handles are welded to the mug, and the double-walled structure keeps beverages cold for many hours.
Pros
Pros
The lining is made of stainless steel;
Durable;
Double-walled;
Upgraded ergonomic handle;
Keep the drinks cold for 2 hours;
Easy to grip;
Nice gift box;
Cons
Cons
The mug "sweats" a lot;
The handle is a bit thin;
Not hammered;
May rust over time;
The Krown Kitchen's Copper Mug is absolutely stunning. It's made of stainless steel and has a copper-plated shell and a brass handle. Stainless steel has many benefits over 100% copper mugs, including better maintenance, easier cleaning, and a much longer lifespan.
---
Sertodo Copper Moscow Mule Mugs – the best for the size!
Handmade and hammered by artisans in Texas and Mexico the Sertodo set of 4 copper mugs offers the trendy shape. The mugs are made from recycled materials. The handles have a good feel and style. They are available as singles or in packs of two or four.
The collection is constructed entirely of pure copper. With an 18-ounce size, it may hold a substantial number of drinks. One of the great things about these copper cups is that there is no lacquer or coating on them. Tungsten Inert Gas (TIG) is often used to weld the handle, making each cup thicker and more robust. Each mug has a uniquely shaped curvy handle.
Pros
Pros
100% pure copper;
No lacquer coating/finish;
TIG-welded handle;
Handcrafted;
Made from recycled materials;
Thick walls;
Large;
Cons
Cons
Pricey;
Needs maintenance;
May flake over the rim;
These American cups are much thicker than most mugs used in bars or on store shelves. The weight of the cup reflects the consistency. They're still very lovely, and the hammered finish is ideal for hiding the marks that might otherwise be visible all over a polished base.
---
PureCopper 100% Copper Mug for Moscow Mule – the best for keeping drinks cold!
These mugs are made of pure copper, much like a Moscow Mule cocktail. This ensures there would be no plating, padding, or alloying.
Copper has incredible properties that hold the drink cool for an extended period of time, improve taste, and have health benefits. The mug comes with bonus recipe cards that range from traditional cocktails to unusual and relaxing experiments. When you hold it in your hand, you'll understand that 16 ounces are the right size! The mug's handle is welded, but there are no rivets. While Copper ages, the company uses food-safe lacquer to maintain the mugs' appearance.
Pros
Pros
Keep the drinks cold for a few hours;
The big welded to the mug handle;
Good quality;
Includes versatile bonus recipe cards;
Food-safe lacquer;
Cons
Cons
No special design;
May rust;
Not durable;
Since these mugs are handcrafted the small flaws can exist, but they just add to the style. The kit also includes an extra care card.
---
The Buyer's Guide
Copper type
A fine Moscow mule mug is expensive, but that is because it is made of copper. Drinkers also learned through the years that copper cups hold the icy temperatures of an ice-cold cocktail for much longer than a regular metal mug. Copper is an excellent insulator, holding the beverages cool and on sunny summer days.
Though 100% copper cups are the most high-quality choice, one lined with stainless steel would be simple to clean as well. Some cups also have a cleaning cloth to help them sparkle like new.
Many of the options available are copper plated. Although this is easier to scrub, it may not have the advantages of a 100% copper mug.
Gauge/thickness
If it comes to gauge, choose a mug with at least a 20-gauge wall thickness to prevent injury if it falls. The finer the metal, the larger the gauge.
Finish
A copper mug may be unsafe if not fully done. Copper ions will contaminate the cocktail. Every choice on this list is clean, but if you're looking for a copper mug anywhere else, make sure it has a food-safe lacquer or finish.
Handle
One of the reasons people want mugs is because they can keep the drink perfectly frosty for more than an hour. That means it's still very cold to hold, which is where the handle comes in. Make sure the handle is wide enough to accommodate your hand and is welded on for added stability.
Since copper is a conductive material, heat moves rapidly through it. When you hold a copper mug, you'll find that your drink warms up quicker. So, choose a cup with a handle that won't quickly react to the warmth of your hands.
Welded or soldered mug handles are often preferable to riveted joints. It's much more durable, stable, and easy to clean, as well as watertight and leak-free.
Rivet handles provide a breeding ground for bacteria and can leak over time.
Choose mugs with rounded lips that make drinking even smoother and more relaxed.
Style
Style is a personal preference. If you are not interested in stylishly made mugs, you can buy clear and simple cups. However, hammered and embossed mugs are an excellent option for a classy and luxurious look.
Temperature
Temperature is the main scientific advantage of using copper mugs for classic cocktails. The best drinkers have understood for years that cold cocktails in copper mugs provide an extra-cool feeling owing to the metal easily absorbing the icy temperature of the drink.
The mug's rim cools nearly immediately, creating a frozen feeling on your tongue. The cool metal is extremely efficient at insulating the cold temperature of every liquid, making it ideal for summer drinking and deflecting heat from the light.
The mug's handle also aids in drink temperature retention, holding your hand away from near -100F thanks to the thick mug's walls, at the same time keeping your drink comfortably frozen inside.
FAQ
Is it safe to use copper mugs for drinking?
Yeah, from a fresh copper mug. Copper mugs made today are made with protection in mind, with sealants and finishes that shield you from toxic metals. Older mugs, on the other hand, that have begun to wear down and patina can begin to leave traces of metal in your drink. There is nothing to be concerned with. Simply replace yours as they are beaten, and avoid using old mugs.
How should you clean copper mugs?
Scrub your copper mug with a fluffy sponge and light dish cleaner. Since rinsing with hot water, rinse the cup with a dishtowel. Continue with a drier dishtowel — do not allow the mug to dry on its own.
To minimize tarnish effects, paint the mug with a metal cleaner every few months. If you don't have some metal cleaner on hand, split a lemon in half and coat it with salt. Any tarnish can fall right off if you rub it on it.
Should copper mugs be lined with tin or nickel?
The copper mugs must be left unlined. If this is correct, drinking drinks with a high pH will allow copper to leach into your drink. Alcoholic beverages, wine, fruit juice, and vinegar all have pH levels lower than 6.0, which is considered stable.
What are the taste benefits of copper mugs for the Moscow Mule cocktails? 
Copper mugs seem to intensify the individual tastes of vodka, ginger beer, and lime. According to certain researchers, as vodka comes into contact with the walls of the mug, the copper starts to oxidize, slightly improving the scent and flavor of the vodka.
As opposed to being poured in a plastic or glass bottle, cold copper has a propensity to maximize the volume of bubbles in the carbonated beer, adding optimum fizziness to the cocktail. The extra-cold copper often brings the lime juice to life, enhancing the tangy citrus flavors while reducing the acidity to help complement the spicy beer. When these three flavors are at their peak, they work together to show that the Moscow Mule belongs among the all-time favorite American cocktails.
Useful Video: Advanced Mixology Moscow Mule Copper Mug
Final thoughts
Copper mugs are unquestionably the perfect choice for making the best Moscow Mule recipe. Moreover, classic mugs are unquestionably the perfect way to drink a traditional beverage. Hopefully, the copper mugs mentioned in this guide will help to enjoy your favorite cocktails at home without visiting a bar. 
---